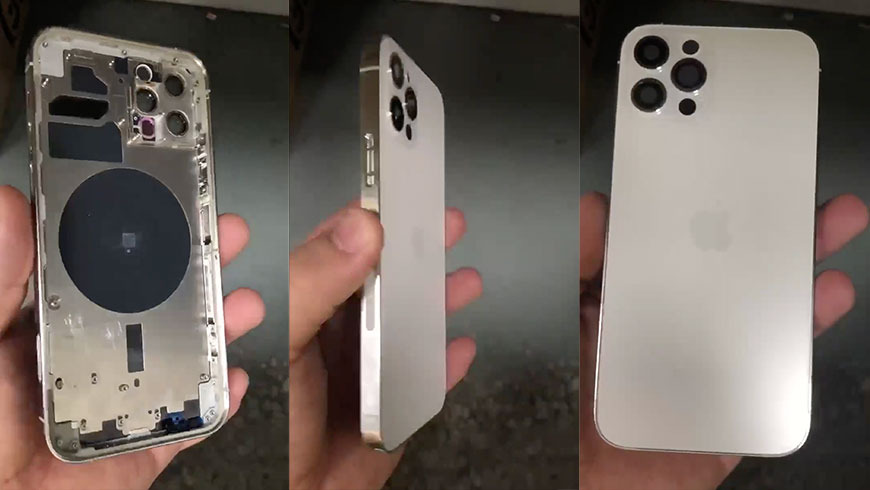 A video on Friday reportedly gives the closest look to Apple's "iPhone 12 Pro" chassis even before an expected release this fall.
The short, five-second video posted on Twitter by YouTube channel EverythingApplePro reveals what appears to be a next-generation iPhone chassis complete with iPhone 4-inspired designs, cutouts for a triple lens camera setup, a rumored LiDAR scanner slot, relocated SIM slot and more.
Called the "official iPhone 12 Pro chassis", the metal sleeve appears to be of production quality, with milled edges, a white glass base and a selection of mounted casings. Inside you see a cover for what appears to be a wireless charge through a circular area cut out from component shielding.
The glass side of the presumed chassis provides a better view of the camera stack and a faint Apple logo layered with white paint.
While most of the design aspects shown in the video have been discussed in previous reports and sharing leaks, today's video reveals a small rectangular window on the right side of the device, below the on / off button. The purpose of the strip is unclear, although at least one previous report notes its existence in early CAD drawings.
The window can be a design consideration for new accessories, such as a more compact, wireless charging case, in appearance to the iPad Pro's magnetic Apple Pencil charger.
Apple is widely expected to unveil the "iPhone 12" this fall, although a release comes weeks later than the regular launch in September. An upcoming special event scheduled for September 15 is expected to announce new Apple Watch – and potentially iPad Air – models, indicating that the iPhone's debut will be pushed to October.