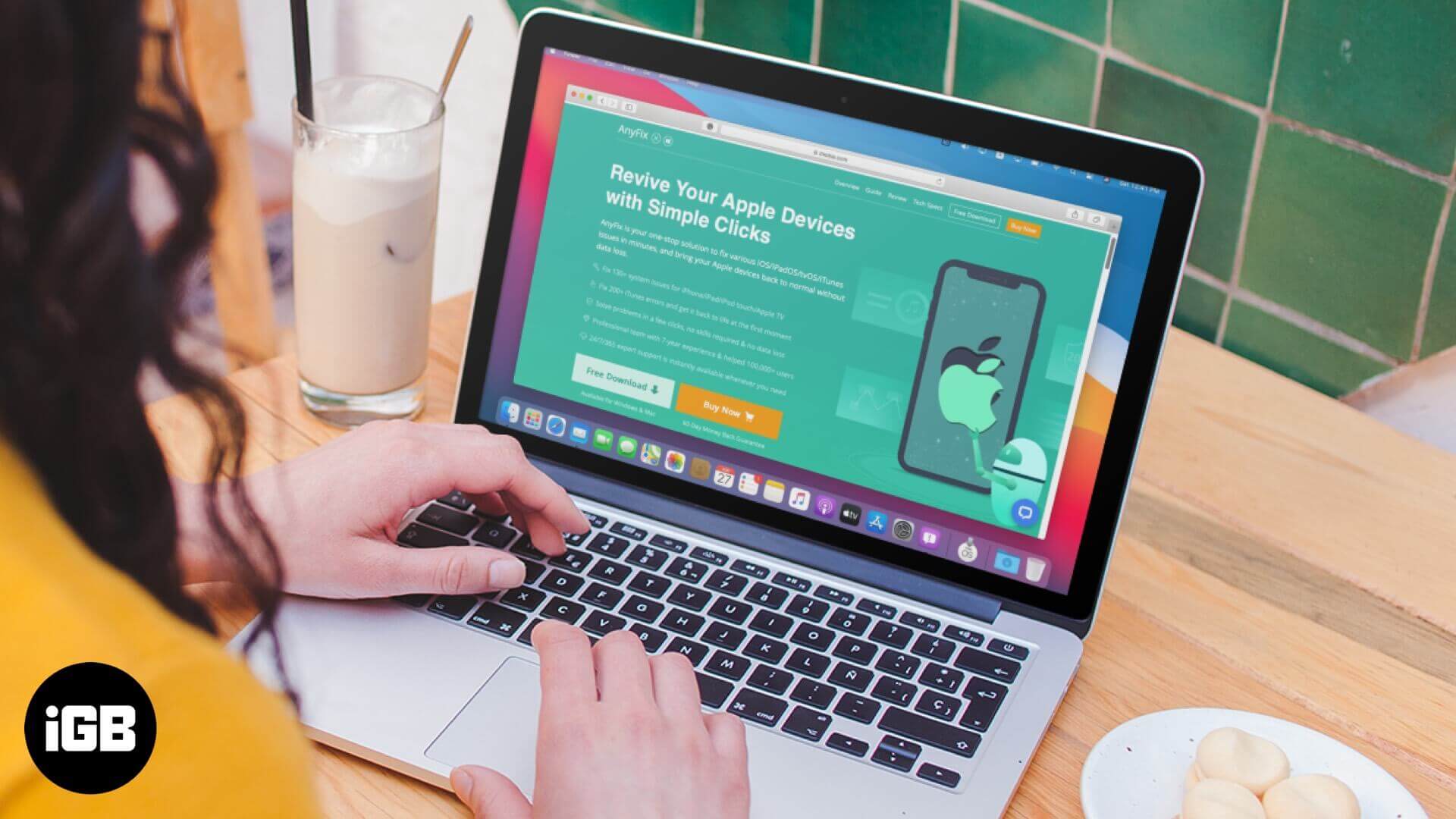 Problems such as iPhone battery draining, a frozen screen, stuck in recovery mode, or disabled screen may arrive at the door without invitation. However, the real problem is how to fix them without compromising the data or the integrity of the iPhone? A reputable software AnyFix boasts of being the one-stop solution. But can AnyFix fix any issues with iOS, iPadOS, tvOS and iTunes? Let's thoroughly test the software for answers.
AnyFix: Quickly fix all iPhone, iPad and iTunes errors
AnyFix by iMobie is a software toolbox that can handle almost any problem your Apple device faces, whether it's as annoying as not charging the device or as scary as being stuck on the Apple logo for hours.
The all-inclusive recovery software can handle over 330 issues related to iPhone, iPad, iTunes and Apple TV. The unique thing is the troubleshooting method, simple solutions to mild problems and stricter actions for complicated problems.
The three repair modes
When we build our troubleshooting guides, factory reset is a core alternative we tend to suggest last. If some adjustments can fix things, why wipe out all your settings and data.
Following a similar line of thinking, AnyFix offers three recovery modes:
1

. Standard repair: A basic repair plan is meant to solve simple common problems like battery operation etc. Without data loss. Your device and its data remain intact while the issue is resolved.
2. Advanced repair: If the problems are a little stubborn, like will not update or turn on, AnyFix offers some more powerful tools. Although it will bring the device back on track, the data will be lost in the process; hopefully you have a new backup.
3. Ultimate repair: As the name suggests, this is for the ultimate problems. Whether the device is frozen or stuck in a black / white / blue screen, it will bring the dead device back to life.
How to use AnyFix to revive your Apple devices
It is quite easy to solve any system or software problem with AnyFix. And it all starts the moment you launch the app. The welcome dashboard is efficient and straightforward.
Start by choosing System repair from the options.
Select 50+ iPhone issues and Start now.
Then select the mode you want to use, depending on your problem.
AnyFix will ask you to download a firmware, click on Download.
When the download is complete, click Solve now.
From here, follow the on-screen instructions and let AnyFix perform its magic.
And that is it; No matter what problem your device has had, most things will be solved. Keep in mind that if the problem is hardware related, AnyFix will not be able to help.
An app, many uses
As we mentioned earlier, and you may have also guessed from the above repair methods, iMobies means AnyFix business. You can fix around 130+ iOS / iPadOS / tvOS issues and 200+ iTunes errors.
But not everything … AnyFix also boasts:
Recovery Mode Controller
Another great feature of the app is that it allows you to enter or exit recovery mode with just one click. Thanks to this, you can quickly recover your device without the risk of losing data.
iUpdater
iOS upgrades can sometimes invite bugs or other issues. Understand the same, iUpdate brings together all the upgrade / downgrade versions available for your device, including the latest iOS beta.
Stored in the AnyFix resource library, you can easily select any version upgrade or downgrade. It will also notify you when new updates are available, and you can explore the latest iOS in beta without developer profiles.
Reset locked iPhone / iPad
Locked out of iPhone and do not remember the password? Using AnyFix, you can reset your iPhone, iPad or iPod touch without entering a password. This method will update the latest supported iOS version and all data will be deleted after reset.
Smart scan
A great feature that simultaneously scans multiple threads to detect potential iTunes errors, from iTunes components to system files. When analyzing the cloud data, multi-pattern matching algorithms check for errors and resolve them quickly.
Why entrust your device to AnyFix?
Both the device and the data inside are precious to you, and handing it over to third-party software is a serious decision. And we are now testing AnyFix's dignity to handle the device.
Force repair
AnyFix automatically matches and encodes the required IPSW files according to the device chips and system versions. Thanks to which it can effectively bypass iBoot from Apple devices and use the programmed IPSW file to analyze the device data and repair them deeply.
And even when the phone does not want to restart or cannot enter recovery mode, the software has the highest success rate.
24/7/365 customer service
Help is always welcome, especially when you are dealing with the difficulty of solving potentially difficult problems. And it's definitely a plus that you can get help from the experienced developers anytime, anywhere.
Money back guarantee
But what if you are not happy with AnyFix services? The software comes with a worry-free shopping experience with a 60-day money-back guarantee.
Our verdict
AnyFix actually has a solution for several issues with iPhone / iPad / iPod Touch and Apple TV. The great thing is that the solutions are just a few clicks away. The interface is nice, well organized and quite easy to understand and use.
However, I experienced an error while testing the iPhone running the iOS 14 beta version; it got stuck on the Apple logo during repair. Aside from the issue most likely caused by an iOS 14, everything was a slippery slope, including a standard repair of another iOS 13 running iPhone.
Price: $ 45.99 / month (1 device or 1 Mac)
Buy AnyFix


Author
A self-proclaimed iGeek who loves to explore all things Apple. I thoroughly enjoy discovering new hacks, troubleshooting issues and finding and reviewing the best products and apps currently available. My expertise also includes curating meaningful and honest editorials. If not, you may find me surfing the web or listening to audiobooks.
Source link