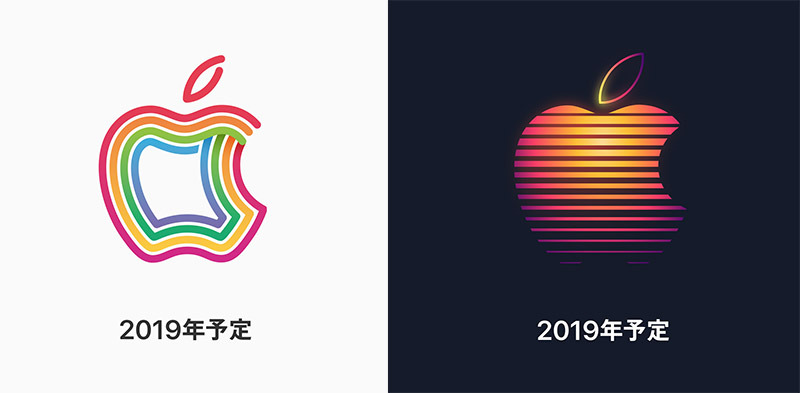 This week Apple sent a few pictures to its regional website in Japan and teased it appears to be plans to open two new brick-and-mortar stores in the country later this year.


The company recently updated the bicycle banner graphics retailer that published renovations on Apple Omotesando and two stylized Apple logos potentially representing plans to open new locations sometime in 2019.
Apple has previously used artistic renditions of its trademark logo to promote retail in Asia, including store renovations and large openings in Japan and China. In Japan, the general design sees the Apple logo in front of Japanese kanji signs indicating the location of the store.
At the beginning of 2018, the company teased a shop in Shinjuku, which was then forthcoming, with logo art reminiscent of neon lights, a nod to the bustling Tokyo branch's rich nightlife. Later that year, Apple announced the imminent opening of the Kyoto location with a stylized logo against a traditional quilt.
Not much is known about upcoming sales beyond the two teaser images on Apple's website. One version shows the logo in a series of four lines of graded colors borrowing from Apple's classic rainbow brand, while the other suggests an orange sun reflecting an arrangement of progressively thin slats. Under both logos is text that translates to "scheduled for 2019."
It can be speculated that one of the new designs relates to a reputed store that is believed to be under construction at the base of the Mitsubishi Building next to Tokyo Station in the capital's Marunouchi district. Apple's line drawing can pay tribute to several train and subway stops converging in the area, each with a different color on official city maps.
Apple is rapidly expanding its physical presence in Japan. Last year, former store manager Angela Ahrendts announced a five-year plan to reinvest in the market with new brick and mortar locations and a series of renovations. The company currently operates eight locations across the country.