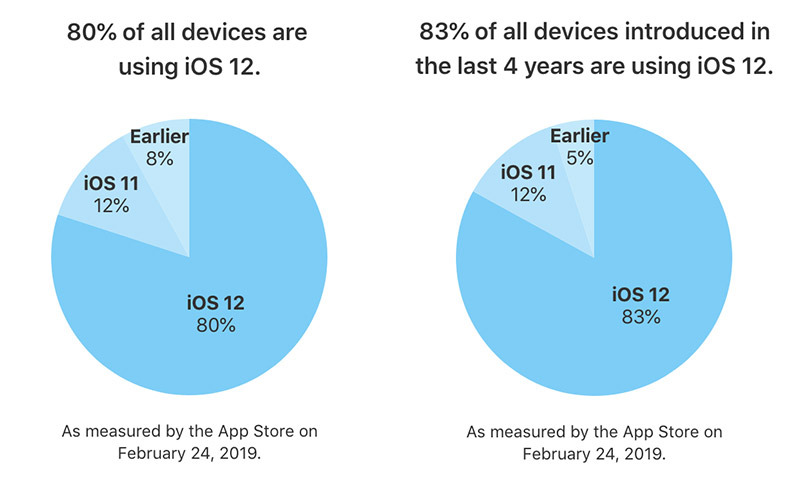 Decision statistics released by Apple on Monday reveal 80 percent of compatible iPhone, iPad and iPod touch devices running now the company's current generation iOS 12 mobile operating system.


The figures, announced in an update to the Apple App Store support website, also show iOS 12 as installed on 83 percent of the devices released over the past four years. As with previous iOS versions, the decision speeds of the current iteration operating system have been steadily rising since launch in September.
Use of the latest 2017 iOS 11 is down to 12 percent, while older operating systems occupy a 5 percent share of devices released over the past four years and 8 percent of all compatible devices.
Apple's statistics were retrieved from App Store visits which were logged on February 12, 2019.
The latest iOS 12 has seen relatively fast recordings during its lifetime. The decision was 53 percent less than a month after the original release, a figure that jumped to 70 percent in December. By comparison, iOS 11 was installed in only 59 percent of units in December 2017.
Third-party market research companies estimate even faster upgrade prices, with numbers from Mixpanel putting iOS 12 adoption at 75 percent at the end of November.
Most recently, official statistics issued in January published call rates of 78 percent of the units released over the past four years and 75 percent of all units.
Introduced with the iPhone XS and XR in September, iOS 12 delivers a host of new features to customers' smartphones and tablets, including powerful shooting tools, a system for monitoring and managing screen time, Group FaceTime, ARKit 2 enhanced reality platform , new Memoji characters and more. Perhaps contributing to explaining this year's increase in adoption is Apple's focus on improved operating system performance for older devices, a drain coil function for iOS 12.
Apple continues to build on its latest OS release, with the current iOS 12.2 beta tipping a new designated remote control center interface, Siri's Today recommendation integration in Apple sessions, News tweaks user interface, and minor bug fixes.