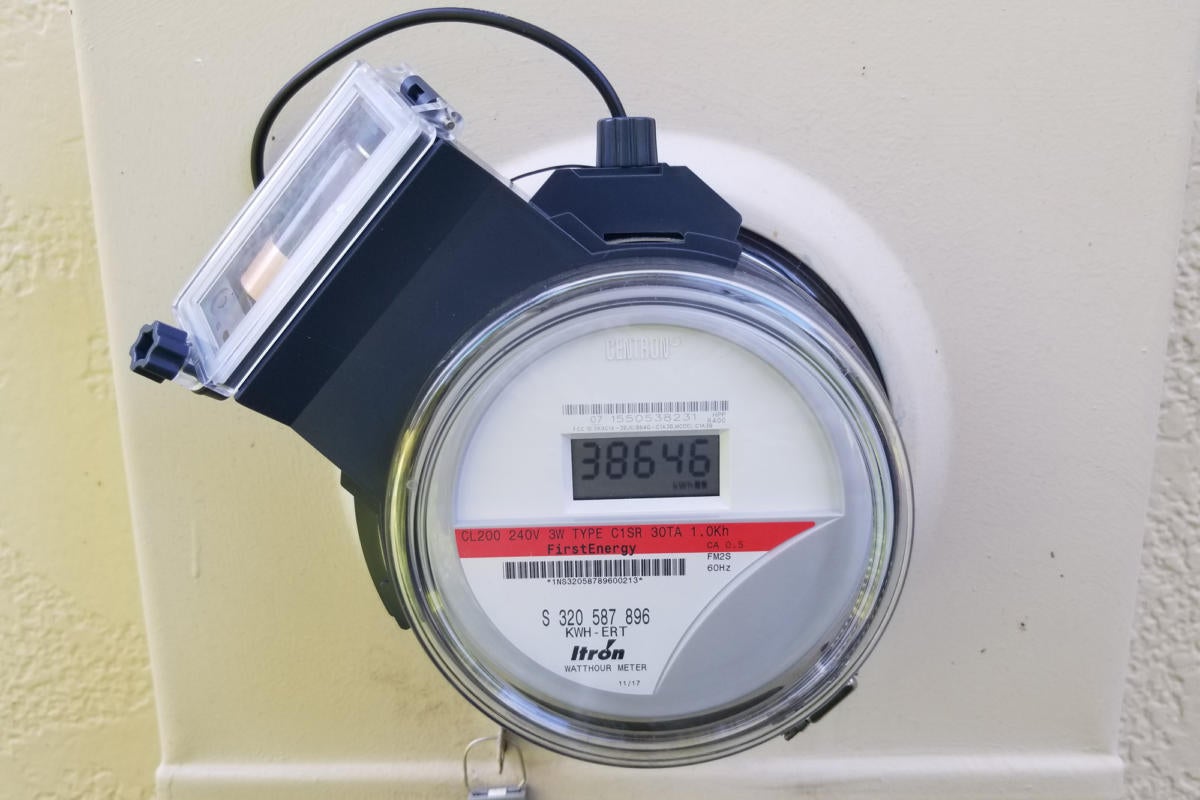 As electricity prices rise across the country, it makes sense to track home electricity consumption at a higher level than just looking at the monthly utility bill. While there are smart solutions to track usage for specific outlets, Blue Line Innovations & # 39; EnergyCloud ($ 199) takes a full-on approach.
And unlike the Sense Energy Monitor we evaluated earlier this year, Blue Line's wireless sensor does not require access to the home's circuit breaker panel to provide real-time data on how much power you use and which devices draw the largest load. It connects to the service provider's meter instead. The sensor sends readings to another hardware, which transmits these readings to the home's Wi-Fi network and from there to Blue Line servers in the cloud. You will use a mobile app and / or Blue Lines web portal to configure and monitor the layout.
A Measured Connection
If the idea of ​​touching the power meter of the tool makes you nervous, you can rest assured that you do not need to do anything dangerous. Where the Sense product involved placing clamps around the incoming high voltage wires that are behind the circuit breaker panel, Blue Line's sensor straps around the meter's meter using an adjustable clamp. Blue Line says the sensor is compatible with most analog and digital meters used in North America, including smart meters (follow this link for examples). I found the most challenging part is adjusting the sensor to the meter's data feed, but the instructions will guide you through the entire process and it's not that difficult.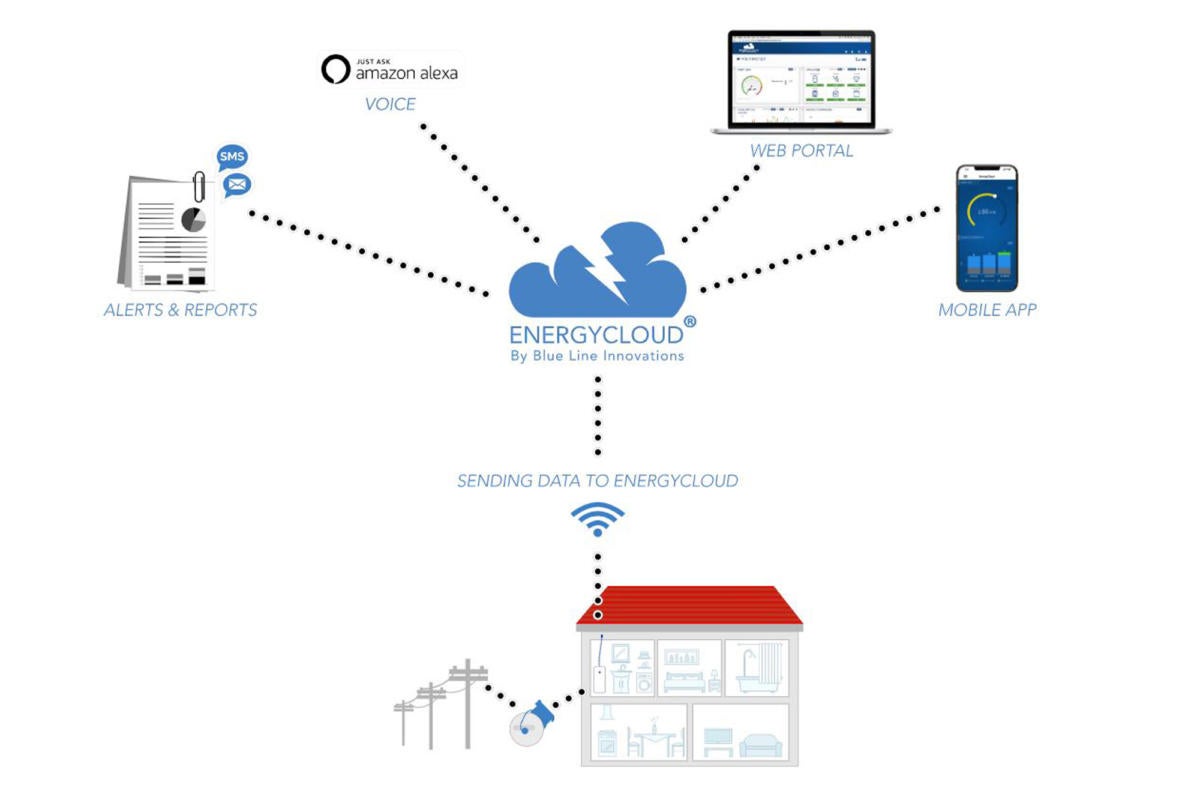 The sensor runs on a single C-cell battery, and Blue Line estimates the battery life of about two years. Within a couple of months I tested it, the battery life did not fall from 100 percent. Given that it sends a meter reading to the receiver every 15 seconds, it is quite impressive.
EnergyCloud differs from Sense in a different way: After two years, you must register for a subscription if you want to continue receiving detailed analysis. Fortunately, the cost of the subscription is not demanding: $ 15 per year.
I met some hiccups while setting up Blue Line's Wi-Fi module. Most importantly, I did not get this component to connect to the Eero mesh Wi-Fi router – at all. Oddly enough, it had no problem connecting to any of the several conventional routes I tried, although I still needed to get off my feet, plus a height in height). I also discovered that Blue Line's bridge consistently failed to reconnect to my network after a power failure. Ironically, I had to unplug the bridge and reconnect it to keep the system working.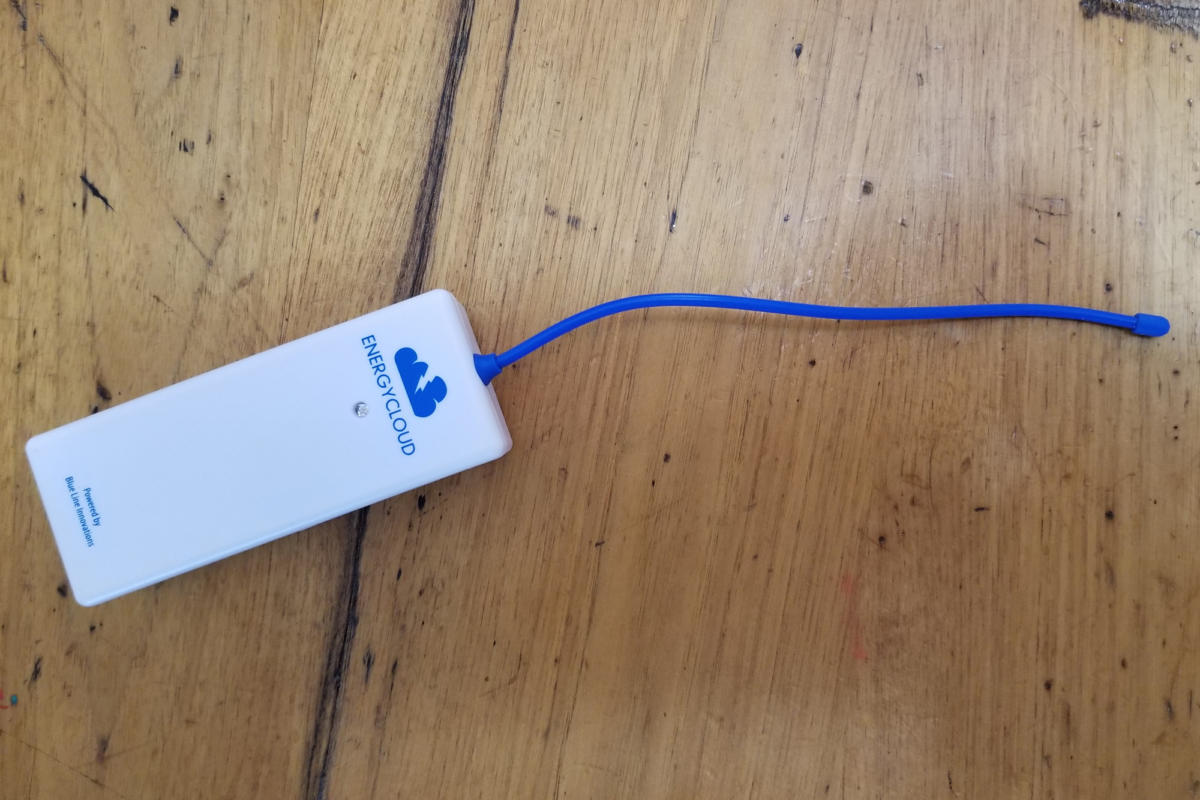 Give it time
Connection issues run away, the rest of my installation went fine. When you create an account through the Blue Line web portal (or via the mobile app, available for Android and iOS), you will inform the service about your large appliances, the type of heating and air conditioning your home has, and the power consumption or consumption specifications for current for these devices. The mobile app is clearly laid out, but Blue Line presents so much information that I found the web portal (viewed on a computer screen) easier to use, especially for the original configuration.
Blue Line has also developed an EnergyCloud Alexa skill, so you say to an Echo-compatible smart speaker "Alexa, ask EnergyCloud to tell me how much power I use," or "Alexa, what is the current speed of power?" This is a faster way to get information compared to opening the mobile app or navigating the web portal, but the company has yet to offer Google Home and Apple HomePod users on this front.
Once configured, EnergyCloud only needs time to analyze power consumption. Ideally, it will take about a month to start seeing meaningful detailed usage logs, but right from the beginning you will at least be able to see exactly how much power you are using in an instant. Energy use is tracked and graphed based on three categories: the gorgeous "activities", "always on" units, and projected consumption.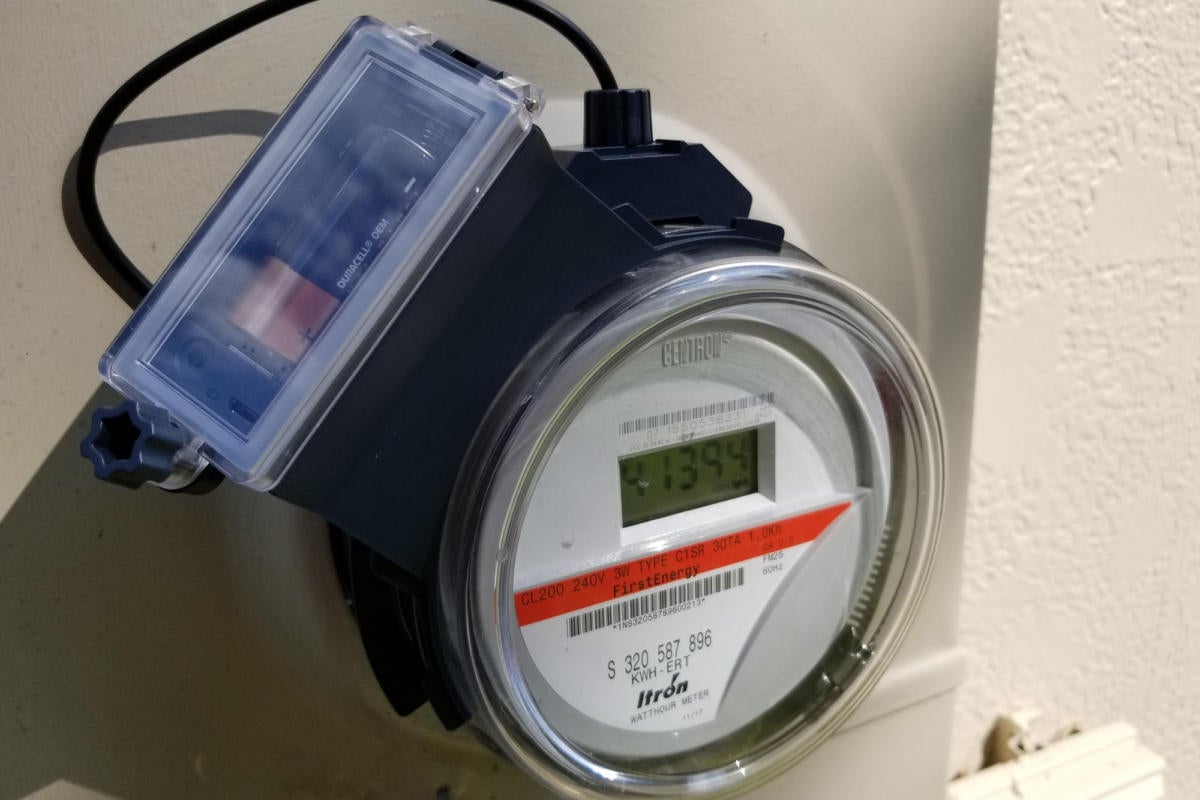 This flow of data was fascinating. Seeing exactly how much energy these 'always-on' devices absorb was a real eye-opener. In my case, they were on average responsible for between a quarter and a third of the total electric bill. Over time, EnergyCloud will also be able to identify each of your most important appliances and how much electricity they draw down. In my case, I discovered that my clothes dryer used 40 kHh (kilowatt hours) less power in July than it did in June, but that my hot water heater used 85 kWh more in the same period. If you prefer a less abstract measurement, you can configure EnergyCloud to report your energy consumption in dollars spent instead of kilowatt hours.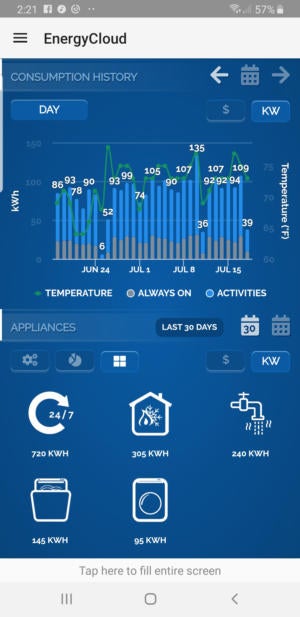 EnergyCloud is much less efficient at identifying smaller devices in your home with specificity. For example, if you tell the system that your dryer is on a 30-amp circuit, it can pick out the appliance and tell you how much juice it uses. However, the reporting is not sufficiently grainy to inform you of how much it costs to leave something that your porch lights on overnight.
Blue Line states that EnergyCloud reporting focuses on the objects and activities in the home that consume the most electricity: heating and cooling, cooking, heating water, washing and drying clothes and dishes, as well as some of the more esoteric energy consumers, such as: operate a spa or EV charging station for an electric car.
Blue Line Innovations & # 39; EnergyCloud is not as grainy as the more expensive Sense energy monitoring system, but it will accurately report the home's overall energy consumption while identifying its largest power consumers. EnergyCloud is also much easier for homeowners to install (Sense may be a DIY affair, but the manufacturer recommends hiring a professional electrician for the job because it involves placing terminals around the mains that supply power to the power switch panel. [19659028]
Source link