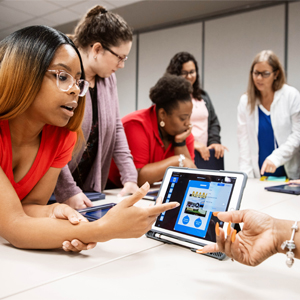 The academies reflected the great diversity of America's teachers. Fourteen Historically Black Colleges and Universities (HBCUs) sent faculty, STEM students and IT staff to attend the Nashville Academy, hosted by Tennessee State University. Each of the HBCUs will spend the next year adding coding courses and clubs to their campuses – and Apple and TSU will support their efforts with on-site visits and online training.
For Dr. Robbie Melton, TSU's interim dean of graduate and professional studies and catalyst for the Nashville Academy, this partnership marks a fresh start for the HBCU community, with the goal of increasing enrollment nationwide.
"Without this mission-critical initiative, our students will not be prepared and unable to compete in the digital world today," says Dr. Melton. "And we see this as a holistic initiative, where no one will be left out. We are going to immerse the entire community in coding."
Dillard University Information Instructor Dennis Sigur, who has taught at HBCUs for more than two decades, believes this program is crucial to helping his students realize career opportunities in app development.
"For the HBCUs, it's another door to success," says Sigur. "Most of our students come from backgrounds that do not offer information science education in high school, so the first taste of technology apart from the mobile phone and the internet is on the college campus. So this is of great importance to our universities."
Source link