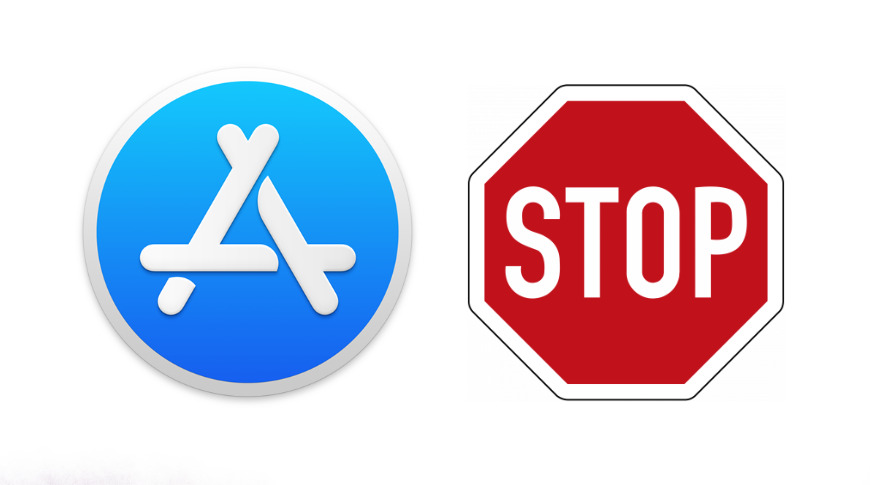 From just using Command-Q to entering terminal commands, there is a surprising number of ways to end an app – and sometimes we need them all. How to get rid of an app that just doesn't want to quit.


App Store icon next to a US stop sign
In theory, the Mac app has a File menu and they all have Exit as the last option in the list. In practice, you have occasionally come across those who are poorly ported from Windows and lack this basic feature. However, you have more often had an app that simply refuses to quit.
Whatever happens, it means that the File / Quit option is pending and will not look for the Command-Q keyboard, there is one thing for sure. This app will not be returned. Something has gone wrong and the only way to fix it is to force the app to stop.
Here are the many ways to do it ̵
1; arranged in the order you should try them.
The safest route
Try Command-Q keystrokes, though it doesn't seem to do anything. It's possible that the app will respond to it eventually, and if it does, this is the only chance you won't have to lose your job.

It's worth a shot. Although the Exit menu is dimmed, try Command-Q keystrokes and wait.
The reason is that whatever has gone wrong with the app, it may still be trying to save your document. With any other method you can use, you kill the app instantly, and whatever little opportunity it saved at that time is gone.
Force Quit
If the app does not respond after a few minutes, use macOSs Force Quit.
We're not saying Apple knows this is happening a lot, but it gives us many ways to force an application to end.
You'll find the first two under the Apple menu in the app. There is a menu option called Force Quit … and it has a shortcut, Command-Option-Escape.
The shortcut can be known to you if you have been using Macs for a long time. Both the and the menu option start the Force Quit Applications dialog that shows all your apps currently running.

Under the Apple menu, there is Force Quit … that opens a dialog and highlights which app you were i.
If you do Command-Option-Escape anywhere on your Mac, you get this dialog and you can browse to the problematic app. Usually, it will have the words "don't respond" next to it. If it doesn't, consider leaving it a little longer as it can still work.
All that choosing the Force Quit menu from an app is to start this dialog and put the cursor on the entry for that app.
When you have the cursor on the app name you want, click Force Quit . And as soon as you can afterwards, click on the red close button or type Command-W to get rid of the Force Quit dialog before accidentally killing another app.

There is absolutely no reason why we have chosen to use Word as our example of apps that need forced termination, oh no.
What may be less well known than all this is the subtle different keystrokes, Shift-Command-Option-Escape. Instead, if you press it, you do not call this dialog box, you just force to end that program in the foreground at that time. That is, it kills the app named next to the Apple menu in the menu bar, and it does so right away.
There is another way to force out an app and it is from the Dock.

Right-click the Dock icon, then press the Option key to get Force Quit
] If you right-click a running program in However, you will get a menu that includes Exit . With that menu on the screen, press and hold the Select key on the keyboard. Exit will contact Force Quit .
When Everything Else Fails
Sometimes, however, none of this is enough. If so, there are two other things you can do. They are both using a dull instrument, and they can both cause other problems if you are not careful, but they will definitely do the job.
The better of the two remaining weapons is the Terminal app that comes with the Mac.
Launch Terminal from the Applications / Utilities folder, and type the word killall on the command line quote followed by the name of your app.
Often it is all you need to do. Terminal will only terminate that app for you.
However, there are many cases where the Terminal will only give you an error message that "no matching processes were found."
There are usually three reasons for this. One simple thing is that you entered the name of the application – as well as writing it correctly, you need to get the case right. For example, writing killall images will not quit Apple's Photos app, while killall Photos should.
If the app's name is two or more words, you must attach the name to the voice tags. So there are killall "Pixelmator Pro" and killall "Final Cut Pro" .

Just to show that we are not picking on Microsoft Word, here's how to uses Terminal to force quit Apple's Final Cut Pro X.
Note that there is no "killall Final Cut Pro X" although it is the correct name for the video editing app. It must be the same name as you see in the Dock or in the Applications folder.
However, even when you get all this right, it still can't work because your Mac doesn't think you're allowed to quit these apps.
If so, the error you get is "no matching processes that belong to you." Assuming you are the admin user of your own Mac, you just need to prefix the killall command with sudo .
So it becomes sudo killall Photos . You may be prompted to enter your password, but it is exactly the same password you use to sign in to your Mac.
One last thing
The reason why this blunt instrument is dangerous is because you shouldn't mess up your Terminal unless you know what you're doing. But the reason why it is better than the final option is that it is the last method to process an application as a single entity.
In reality, an app can be multiple software processes, and it is possible to force to terminate only one of them. It will not magically make the rest of the app work, and what's more, you may not recognize a process to be sure which app it comes from.

Good luck identifying everything in this Activity Monitor list. But if anything takes all your CPU time, you'll see it here.
However, this approach can help you identify what is happening. Start Activity Monitor from Applications / Utilities folder, and in a moment you'll see a list of absolutely everything running on your Mac.
Not only will you not recognize all the names in the list, the same list will continue to change right in front of you. That's because it is always sorted by some criteria that are constantly changing, such as what percentage of the CPU activity the app is currently recording.
That's the kind of information that can be useful. If you can see that a process takes tremendous CPU activity, or memory, and so on, you may be able to recognize what it is. If you are sure you know which process you want to finish, click to select it – and double-check that you have the right one, that the list did not change right below the mouse click.
Then click the X icon right under the Activity Monitor's red close button. You will be asked if you are safe and if you are, the process will be terminated for you.
It's not quite over
Most of the time, everything that has gone wrong is a fly and the next When you run the app, it goes well. If this happens more often, talk to the developer.
However, Force-quitting is not as neat and tidy as usual. Files may not close properly or the app may remain in memory, for example.
The best thing you can do after joining an app is to restart your Mac.
Stay updated on AppleInsider by downloading the AppleInsider app for iOS and following us on YouTube, Twitter @appleinsider and Facebook for live, late-breaking coverage. You can also check out our official Instagram account for exclusive photos.