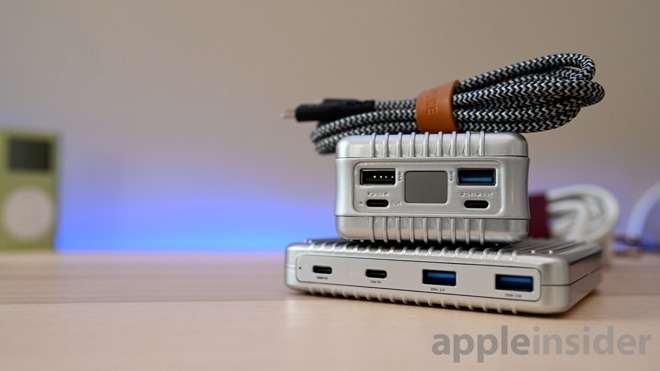 USB-C has continued to be more ubiquitous as several users adopt the small, reversible port. While all our accessories support it, chargers are recharged at the back. Manufacturers – it's time to finally create chargers with more than a single USB-C port.

Although you do not have all your devices switched to USB-C, you are probably familiar with the new specification. USB-C is the connector type that replaces the aging USB-A port. It is reversible and smaller than type A ports, and it supports faster speeds. USB-C cables using the USB 3.1 Gen 2 protocol can handle up to 10 GB per second at full duplex.
Apple took advantage of the USB-C and made all new notebooks Mac solely for the cable, ditching USB-A, DisplayPort and MagSafe in the process. The new iPad Pro also uses type C.
Kanex GoPower USB-C chargers
Other accessory stores in recent years have begun to release products using USB-C on one faster speed. Dashcams like Uwl use USB-C, like the latest GoPros, the Nikon Z series of cameras, air purifiers like Wynd, and headphones such as Master & Dynamic ANC over head cans.
The point is with so much of our equipment that is now dependent on the updated port design, why are we limited to chargers that only support one or perhaps two USB-C ports max?
When AppleInsider reached out to several accessory stores, we were quoted that USB-C PD takes too much power for more than two ports to be included on one charger at one time. However, this need not be the case.
USB-C PD-PD stands for power supply – is a dynamic charging technology that can handle up to 100 watts of specific cables and chargers. This is the type of charger that needs to connect Apple's latest Macs that use 60W or up to 87W power outlets.

Satechi 75W Dual USB-C Multilader [19659006] Which manufacturers seem to be trying to do is keep things simple by supporting all USB-C ports on the chargers power delivery. Take the Satechi 75W Dual USB-C multi-charger. It sports two USB-C ports, with top handling 60W output and the other 18W handle. The 60W is great for a Mac while the latter for an iPad Pro.
Then there are two older USB-A ports that charge at much lower speeds, usually five or seven watts. These ports are the ones we want, would be exchanged for low-power USB-C ports.
The same can be said for the completely exceptional Zendure SuperTank and SuperPort battery and the multi-charger we reviewed, although it can handle up to 100W over USB-C.
In our ideal world, we had a four-port multi-charger with all USB-C. Two that support USB-C PD with fast speeds for mains equipment such as Mac or iPads, and two slower ports for headphones, exercise equipment, etc.
Take the default setup for example. Of course, I often load myself with more equipment than the average consumer, but I don't think my setup is so strange.
When I go out, I take the MacBook Pro (or my iPad Pro), my iPhone, my Apple Watch, and a pair of headphones. Both my Mac and iPad Pro use USB-C to recharge and with the newly discovered instance of USB-C Lightning cables, I also use it to charge my iPhone and even my AirPods.
If I do not take my AirPods, I take my Master & Dynamic ANC headphones that came with a USB-C cable. I also use a USB-C Apple Watch charger because it can plug into my iPad or Mac.
Other equipment that I travel with from time to time includes my Nikon Z 7, GoPro Hero 7 or DJI Osmo, all of which use USB-C. The current option is to get a bunch of USB-C to USB One cables that are frustrating to bring or just charge two devices at once.
None of this is ideal.
Manufacturers have the ability to create all USB-C chargers without worrying about heat or power by just including lower ports that still have the same amount of power as today's type A and C chargers.
That's Time for them to stop sticking to the legacy gates and embrace the USB-C to push the industry forward and eventually allow early adopters and those with newer devices to actually charge the equipment as they should.