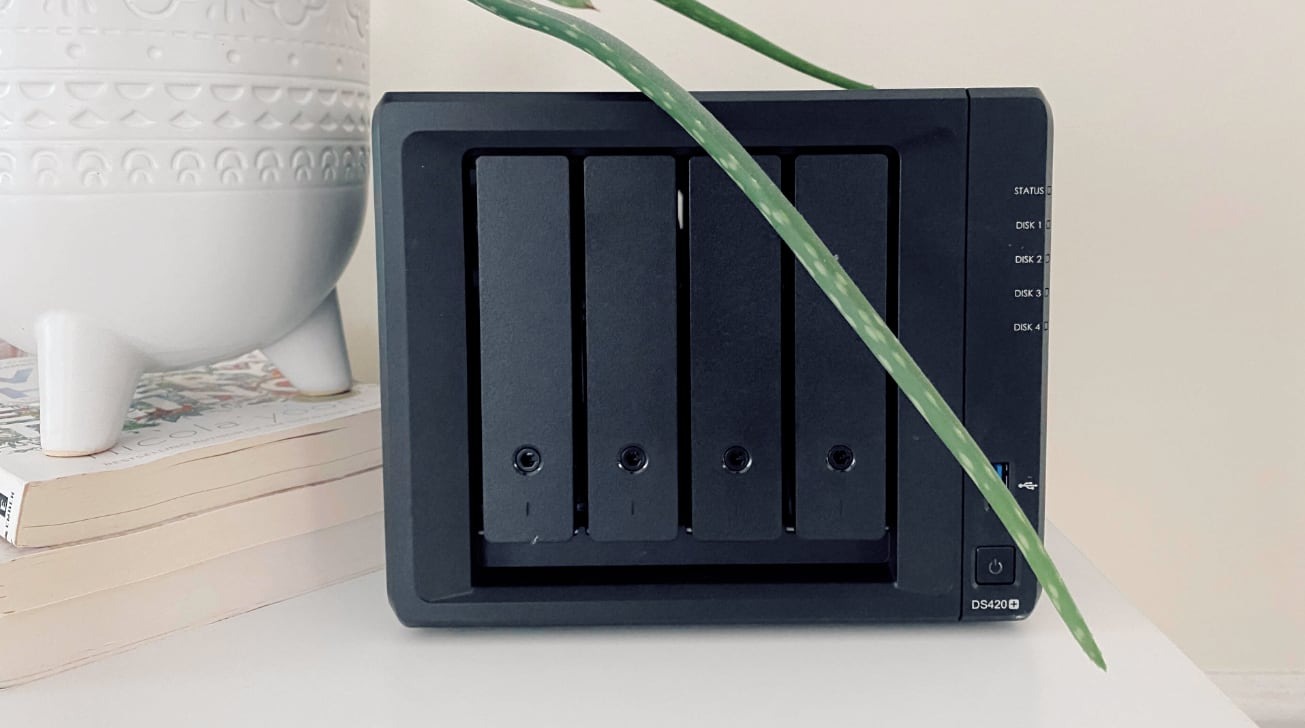 Synology's DS420 + is a small 4-bay NAS that is well suited for the external worker, as more people than ever work from home.
As work from home becomes a normality in many industries, the need to have large amounts of data available to the user increases. In cases where a hard disk upgrade cannot be offered, or an internet connection and cloud storage is not sufficient for work purposes, other solutions must be used.
Synology's NAS series is a good example of a solution to the problem, with the DS420 + also representative of what the company has to offer, for those who need improved storage.
What does a DS420 + do for you?
Synology pushes some common uses during setup. It recommends that a new user install Moments, Video Station, Audio Station, Media Server, Hyper Backup, Synology Drive Server and Download station.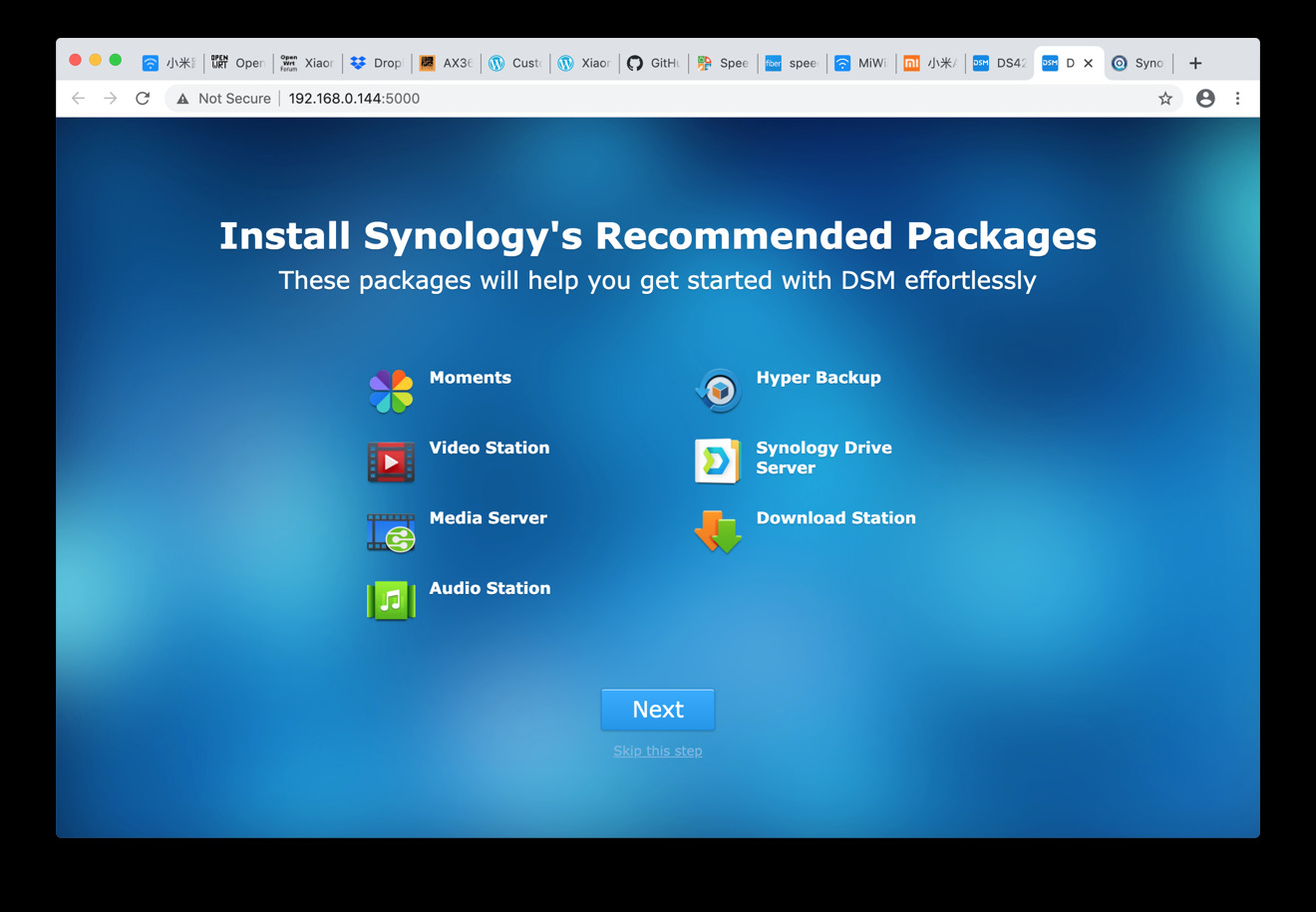 The things Synology thinks new NAS users should have
Moments is similar to Google Photos because it organizes your personal photos intelligently. It works with the Synology Moments app, available on the iOS App Store.
Video and Audio Station are web apps for viewing movies and playing audio stored on the NAS. They work with the company's DS Video and DS Audio apps.
Media Server is a DLNA server for serving DLNA receivers. Some TVs have built-in DLNA, such as Samsung's Allshare Play.
If you had a Samsung TV or another with DLNA support, you can use this. This is less interesting if you are an Apple user with an Apple TV, as it does not support DLNA, but options like Plex can offer similar results.
Hyper Backup is what it sounds like: incremental backups of drives and servers like Amazon S3 or Microsoft Azure. Synology also offers Microsoft Office 365 and G Suite backup applications for free download.
Synology Drive Server is Synology's means to use the system as a local Google Drive replacement. It also offers Synology Office, which acts as Google Docs, Sheets and Slides.
If you wanted to remove Google from your life and rely on keeping everything local on your network, Synology's applications go to great lengths to let you do just that.
Download Station is a program that is downloaded from BitTorrent, FTP, HTTP and more, and allows you to add RSS feeds so that it can be downloaded when more files are added. It has a handy built-in search function to make it easier to find what to download.
Synology does a great job of providing these as the default installation when setting up your NAS, and also offers to install the Mac apps that will help you sync your data to the NAS. Easy boarding is valuable, and Synology understands this.
Why do you want this as an Apple user?
Apple TV
DS Video and DS Audio run on Apple TV. We've found that using Firecore's Infuse on AppleTV is a great way to watch videos stored on DS420 +.
CarPlay
The latest updates for DS Audio have made DS Audio compatible with CarPlay. This means you can have your entire audio library on the DS420 + and stream it from home to your car while on the move.
Although we do not recommend scrolling long lists of albums while driving, it has a convenient playlist option, and we like the screen that displays the album art and colors the background based on it.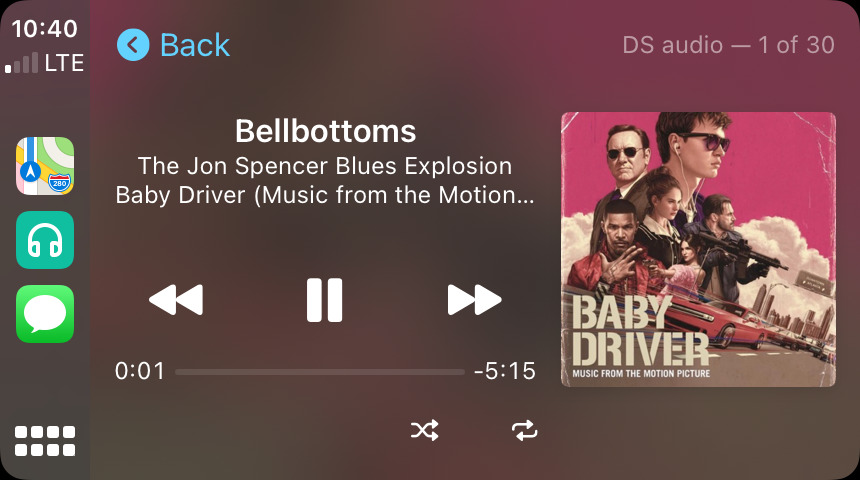 The DS Audio app runs in CarPlay.
Time machine
Unlike HyperBackup, which requires an application to be installed through Synology's Package Center App Store, Time Machine features are built-in. In Control Panel, File Services, Advanced, it is possible to enable Time Machine for SMB (the most common), for AFP, and even use NAS as Bonjour print server to turn a USB printer into a network printer, like the old AirPort Express used to do.
We want Synology to add AirPrint serving to the list, even though so many printers are AirPrint compatible these days, it's not as important as it could have been when AirPrint was launched ten years ago.
Google or iCloud replacement
File storage and serving of music is pretty obvious. Less obvious is that Synology offers Drive applications to keep files in sync across Mac and iOS, and Contacts and Calendar applications that work with iOS contacts and calendars.
If you were really interested in keeping data in the cloud (a computer you do not own), this would be a way to do it.
While most home users will not want to try this, the DS420 + is positioned for the home and small business. There are home users who dabble in labs for home networks, and NAS is well suited for that kind of experimentation and use.
What Synology promises
Synology NAS products tend to be all things for all people. Usually it means doing less good by trying to do too much, but Synology succeeds in doing almost everyone good.
The box claims the DS420 + is an "always-available high-performance NAS server, feature-rich NAS for home and workgroups, ideal for multimedia streaming and file sharing."
The site boasts "Synology DS420 + is designed for IT enthusiasts and home users. Equipped with a 2-core processor and built-in M.2 NVMe 2280 SSD slots for fast acceleration, the DS420 + is ideal for data sharing, video streaming and photo indexing."
And all these things are true. The processor is a 4-core 2.9 GHz, an Intel J4025 Celeron. Previously, we had devices with dual-core N3050 processors. This is an upgrade.
Synology claims that it is capable of maintaining 226 MB / s read performance. We could not repeat this performance, but here we tried:
Using the Thunderbolt Gigabit Ethernet adapter, we mounted the drive on our MacBook Pro 2014 with Mojave. We used both the Helios LAN Test and the Blackmagic Disk Speed ​​Test to measure read and write speeds.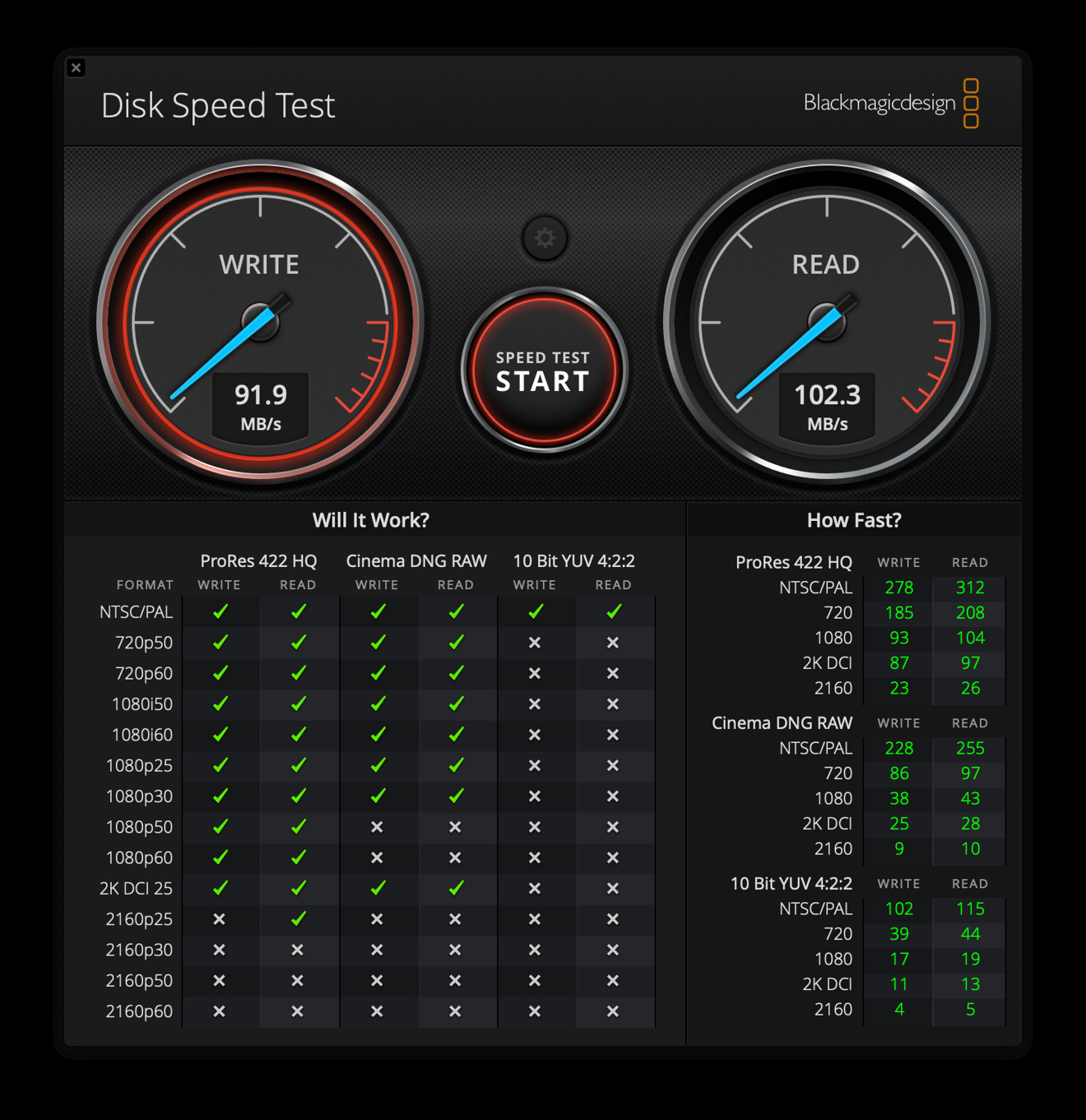 Blackmagic Disk Speed ​​Test for Synology DS420 +.
Blackmagic reached a peak of 107 MB / s. Halios LAN Test read a 300 MB file at 66 MB / s. We performed this test in some ways.
In the first rounds, we connected a new CAT6 cable with a gigabit switch, daisy-linked to a 24-port gigabit switch, to the NAS. (This is an object of how the LAN is constructed here: one switch is a PoE on a UPS for things that cannot go down in a power failure, the other connects devices that can turn off in a power outage.)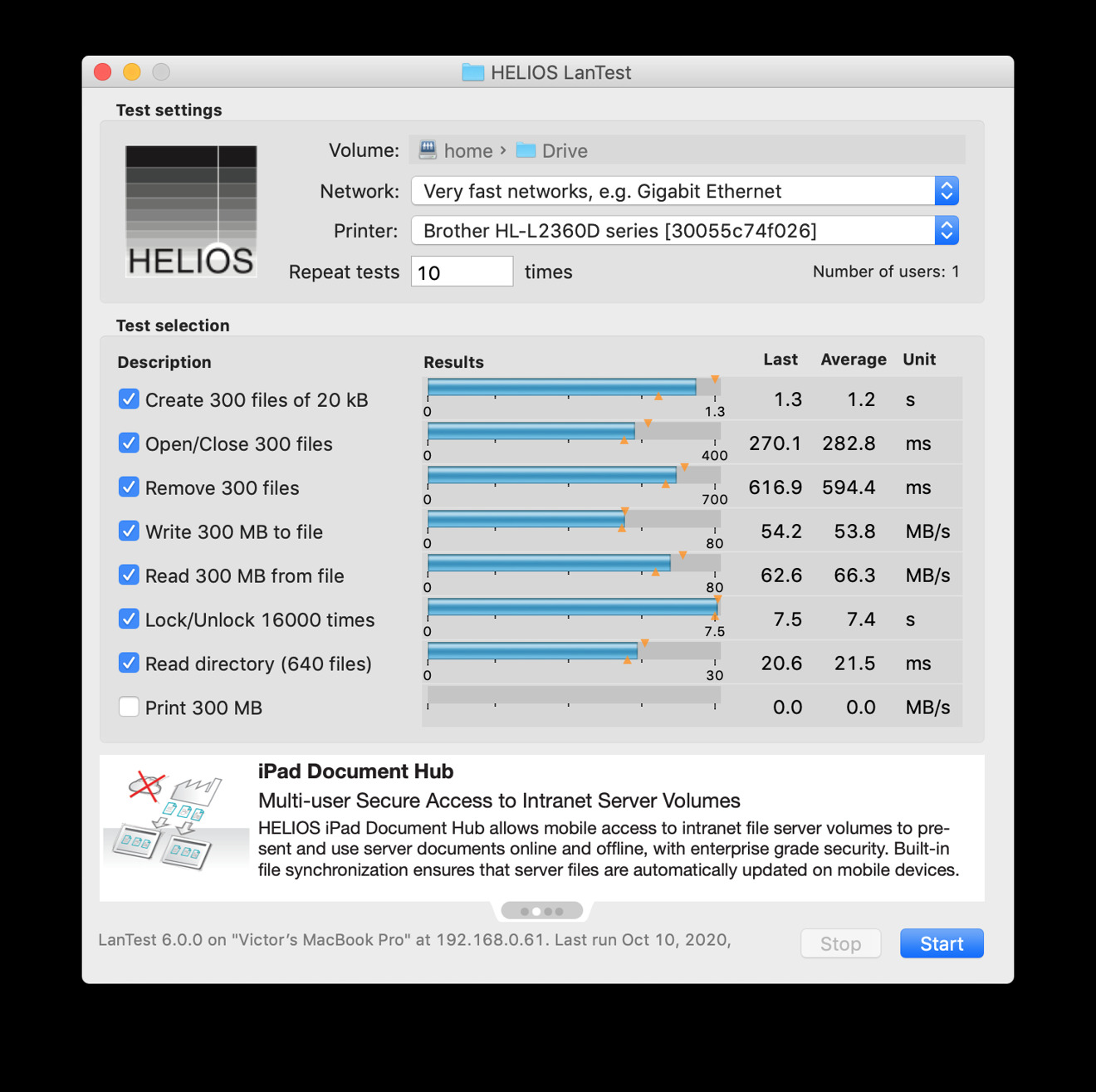 Hailo's LAN test screen for Synology DS420 +.
Then we set a manual IP address on the Mac and connect directly to LAN port 2, in an attempt to remove latency or failing cables between the switches. The results were the same.
We consult Synology on how their results were obtained, but will say that our results are representative of what a new user sees after the quick installation instructions Synology provides.
We did not use new hard drives, but instead used Ironwolf NAS drives we have used in 216+ before.
If we had to guess, the reduced speeds would be down to the fact that we use spinning hard drives, the base of 2 GB of RAM and no NVMe cache. If we upgraded RAM, upgraded to NVMe cache and used SSD instead, we would expect to see speed figures increase.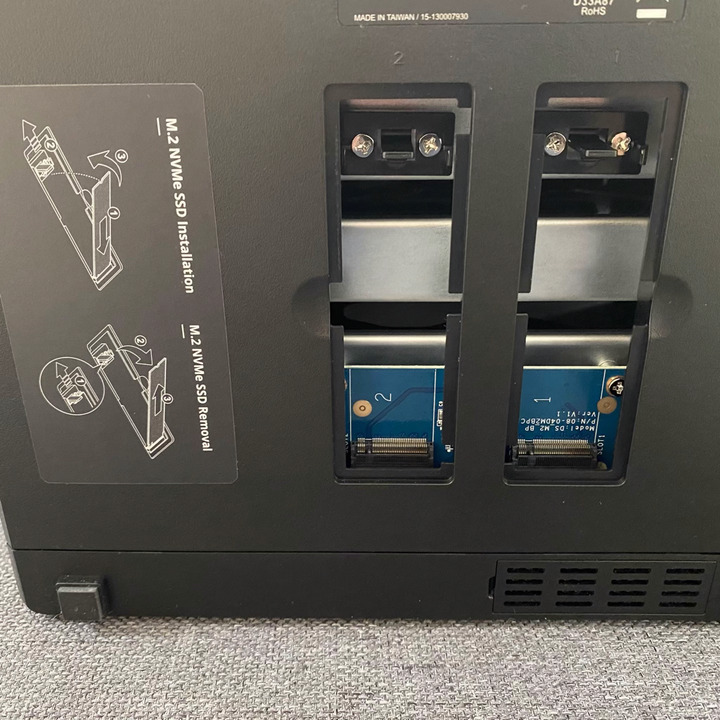 Track for installation of M.2 NVMe drives in NAS.
How is this different from other Synology NAS products?
We have previously reviewed Diskstation 216+ and 1019+. 216+ had 2 GB DDR3 RAM, a single Ethernet port, eSATA and 3 ports (1x USB 3.0, 2x USB2.0).
We also reviewed the DS419slim, a micro-sized SSD only NAS.
The DS216 + had a slower processor, and a small amount of RAM that we managed to saturate quite easily with just a few clients and simultaneous tasks (downloading from the Internet, streaming video, was enough to make RAM peak.)
DS1019 + has 8 GB DDR3 RAM, and we have rarely managed to saturate it. As far as external expansion options go, it has 2x USB 3.0 ports, 2 Ethernet, NVMe cache expansion, and it can add another 5 drives through an expansion well unit.
DS420 + falls somewhere in the middle. It has 2 Ethernet ports, which can be placed in LAG mode. LAG is Link Aggregation, where two ports can act as one (if the network switch they are connected to also supports LAG), thus doubling the bandwidth.
DS420 + has 2 GB DDR4 RAM, but unlike older 216+ it can be expanded to 6 GB. Like the 1019+, it has two NVMe slots for cache expansion.
The value proposition
DS420 + is $ 499 without drives. By comparison, the DS720 + device with two distances is $ 399, while the 1019+ we reviewed is $ 649.
Having two more parking spaces for only $ 100 more seems like a good value. Going up to the 5 wells of the DS420 +'s 4 bays for an extra $ 150 does not work as well, especially if you do not intend to buy an expansion unit to add more drives than that.
This is where it fits in Synology's selection, but how about comparing it to existing cloud offerings?
If you purchased a Google One account, you pay $ 1.99 a month for 100 GB and the ability to add family members. If you want 2 TB, it's 9.99 a month.
If you bought Apple's iCloud, it's 50 GB for $ 0.99 a month, 200 GB for $ 2.99 a month, or 2 TB for $ 9.99 a month. Adding family sharing is not optional, as it is automatic if you have set up family membership in iCloud.
Suppose you spend $ 10 a month on 2 TB for 5 years: that's $ 600.
The cost of this device is $ 499, and drives are $ 83 for 2 TB or $ 139 for 4 TB. Of course you can use one drive, but with 2 or more you can arrange the drives as a storage pool or as RAID for redundancy.
Depending on the drive size and number, your costs are about the same or more than the corresponding cloud storage costs, with the advantage that your data is local to you. If it matters, it makes sense.
Specifications
processor
Intel Celeron J7025
Dual core 2.9 GHz
Hardware Encryption Engine (AES-NI)
Memory
2 GB DDR non-EEC
expandable to 6 GB
Drive Bays
4
M.2 Drive Slots
2 (NVMe)
Compatible drives
3.5-inch SATA HDD
2.5-inch SATA HDD
2.5-inch SATA SSD
M.2 2280 NVMe SSD
Internally supported
Drive Formats
Btrfs
EXT4
Externally supported
Drive Formats
Btrfs
EXT4
EXT3
FAT
NTFS
HFS +
exFAT
Maximum single volume
108TB
External ports
2xUSB 3.0,
Network
2xGigabit Ethernet
Coupling aggregation
Failover support
Wake up on LAN / WAN
Dimensions
166mm x 199mm x 223mm
Weight
2.18 kg
Noise level
19.8 dB (A)
Result: 4 of 5
We like Synology NAS products. We've reviewed several, and this iteration uses the same great operating system we like on NAS, combined with well-maintained apps like DS Audio and its ability to work with CarPlay, or Moments, and its ability to try to organize images intelligently.
This specific DS420 + fits right in the middle for the home user. There are two more bays for future expansion than the 2-station 720+, for not so much extra money.
The operating system provides plenty of geek functionality for small businesses and home lab users, while pushing a solid set of media and file management options for the non-nerdy home user.
Benefits
Older, reliable operating system and hardware
Excellent standard apps for home media (video, audio, photos)
Robust business apps
G Suite replacement (Drive, Docs, Sheets, Slides, Chat, Mail) which integrates with iOS
Comprehensive backup support (Time Machine, cloud, replication to other NAS, including off-site NAS, G Suite, Office 365 backup)
Disadvantages
Expansion options limited to eSATA and USB3.0
The eSATA port is limited to Synology expansion devices.
Similarly in price for a Mac mini
Source link