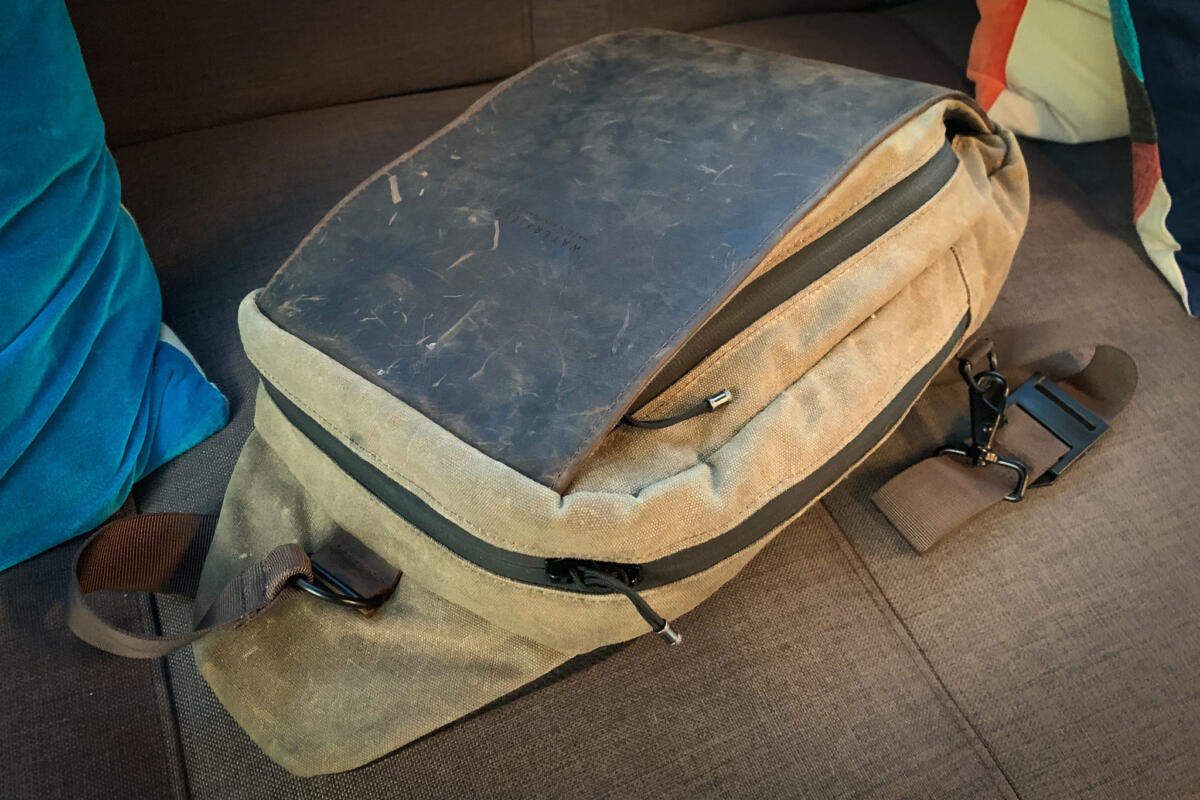 I was tired of bags. I am a carless San Franciscan, so good bags rank up with good shoes among my priorities, but for months I've struggled to find something that nails the sweet spot between comfort and convenience. Backpacks win for comfort (and they are better for my back), but getting some out of them usually requires complicated acrobatics. Messenger bags win for urban environment, but they relate to my shoulder when I've packed them with MacBook, iPads and regular books.
But then I found Sutter Tech Sling from WaterField Designs. The name makes it sound like a 1920's theme in Silicon Valley, but it's as close to perfect as something I've ever used. Comfort? Check. Convenience? Check. And as with almost a product from WaterField, it is made with Apple products in particular.
I downloaded the larger 1
4 "x 9.5" x 3 "full version, but WaterField also makes a smaller" Standard "model that looks a bit like a hot fat packet slipped over the back. It's probably good enough to hold the new 11-inch iPad Pro, but it would never make for the bigger MacBooks I need to carry for work.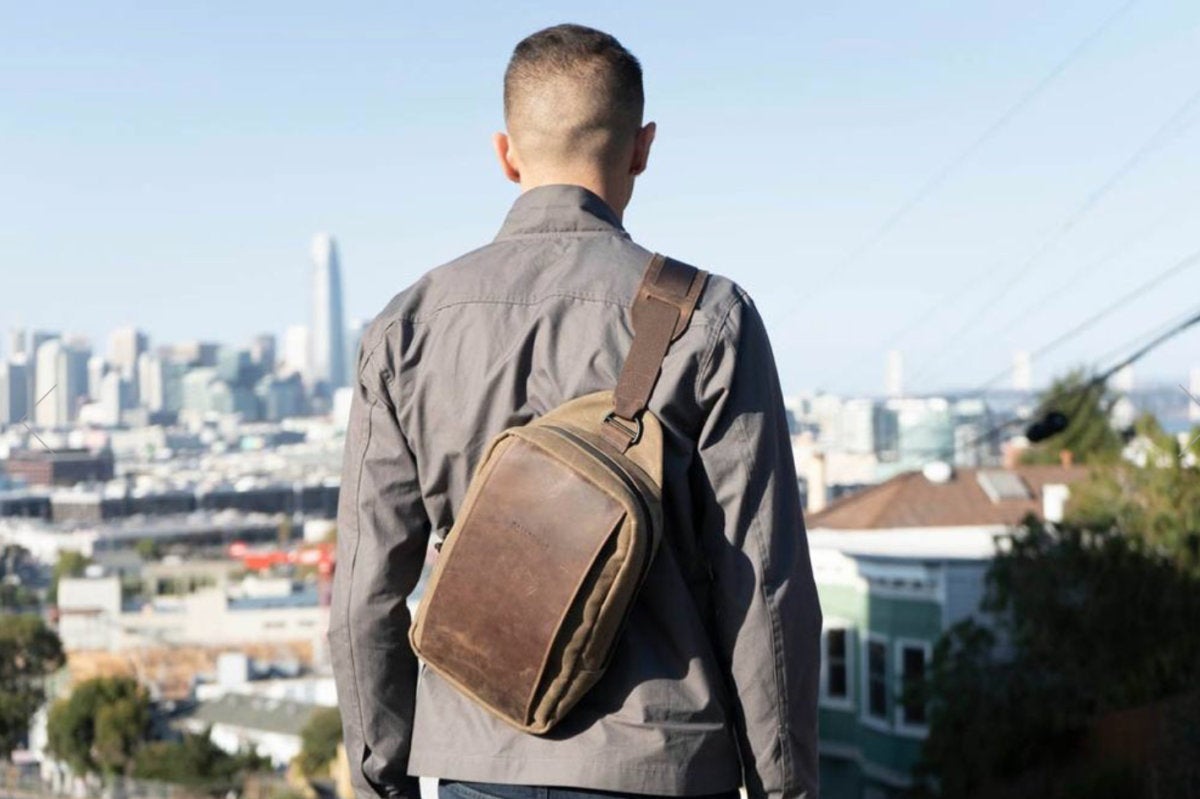 But the full version? This is my jam. Being a loophole, stretches the strap over the chest like a messenger bag while the bag itself rests on my back like a slanted backpack. I have thrown loads inside, who would have wincing me with my favorite messenger dredges, but big loads of sutter sling cause me mild discomfort for the most part. That oblique means that it will never give you the full comfort you get from a backpack, but it comes closer to the mark than most other crossbars or loopbags I've worn.
We can thank the cam lock for the most part. There is a lock on the strap that allows you to adjust slack in a few seconds, which makes a huge difference when the baggage load gives unwanted tension on the spine. Just tighten the lock, pull it up or push it down, and the bag slides into a more comfortable position. The large D-ring strap is attached to aids in this comfort, as it allows the strap to swing in the same position, no matter how tight the strap is.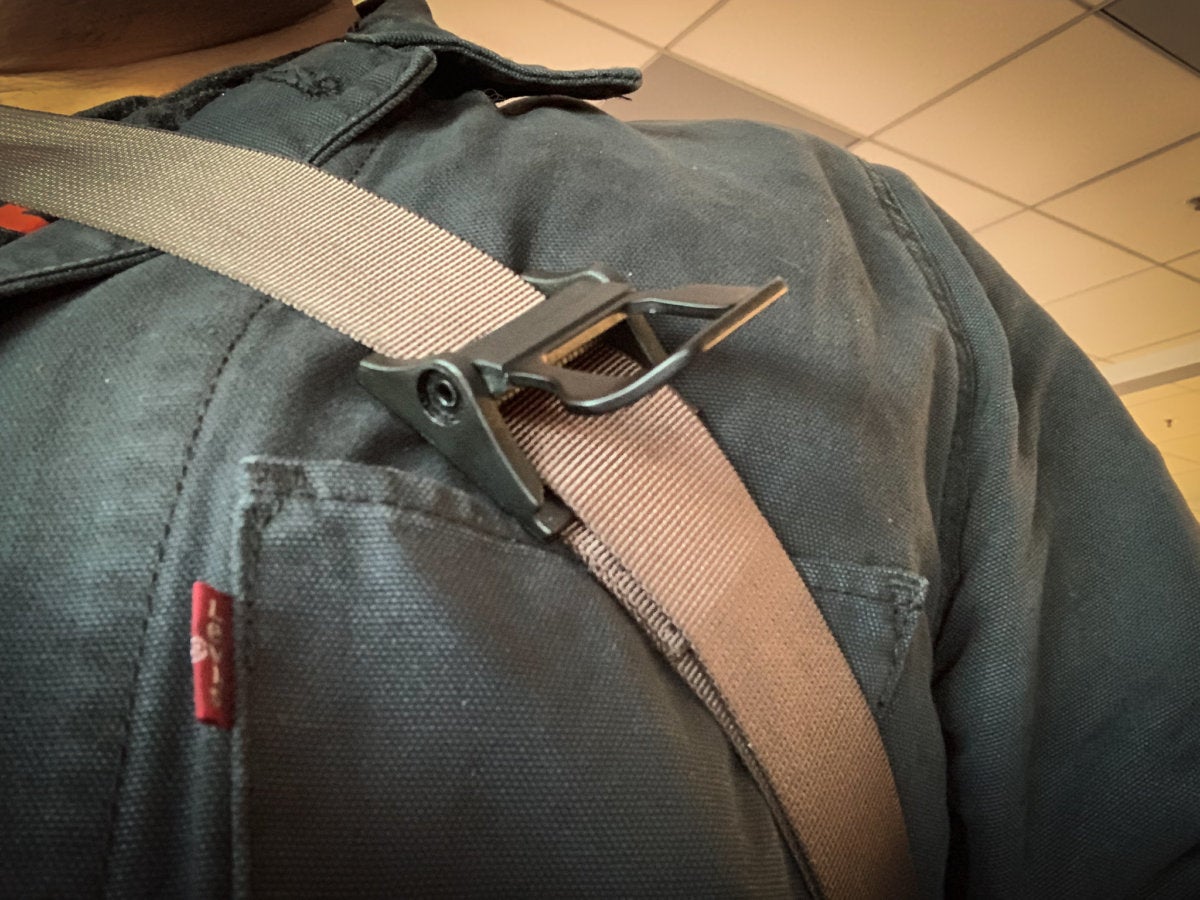 It's amazing, really. I can not count the times i have tolerated poorly balanced load in other bags because I feared to take off the bags on busy sidewalks or crowded subway cars, not to say anything about the frustrating guess of alignment belts to comfortable lengths. There has never been a problem with Sutter Sling.
Lighten your burdens
The townsman in me loves me never to take it off during commuting. It works like a rucksack on the sidewalk, but I can pull the whole bag on the train or the bus so it sits on my lap. While I'm in my lap, the two zips on either side of the front of the "top" or "bottom" opening allow me to pull out the sunglasses, AirPods or similar small items with the easy opening of a purse. [19659002] Impressive, it works in this way, regardless of whether you are right or left handed. The simple backrest attaches to one of two D-rings on the bottom of the bag, which again determines whether you use the strap on the right shoulder or left and how the frontroom is adjusted when you pull the bag around.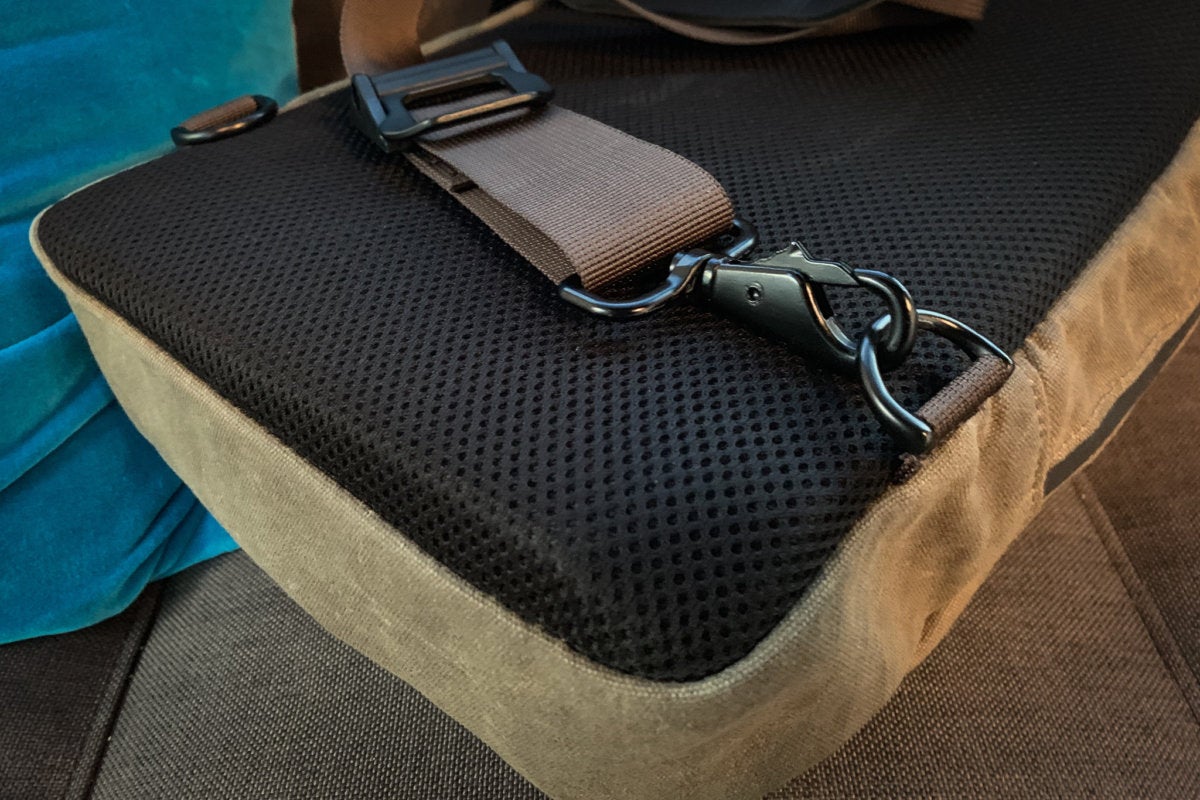 It's a smart design, as long as you're smart enough to keep track of which page you've opened. During the first days of Sutter Sling, I would open a random side of the room when it was outside my back and then forget that I had left it. I had a bad habit of opening the "wrong" page so everything would count out when I lifted it on my back at 5:00. Fortunately, it was four days to break the habit.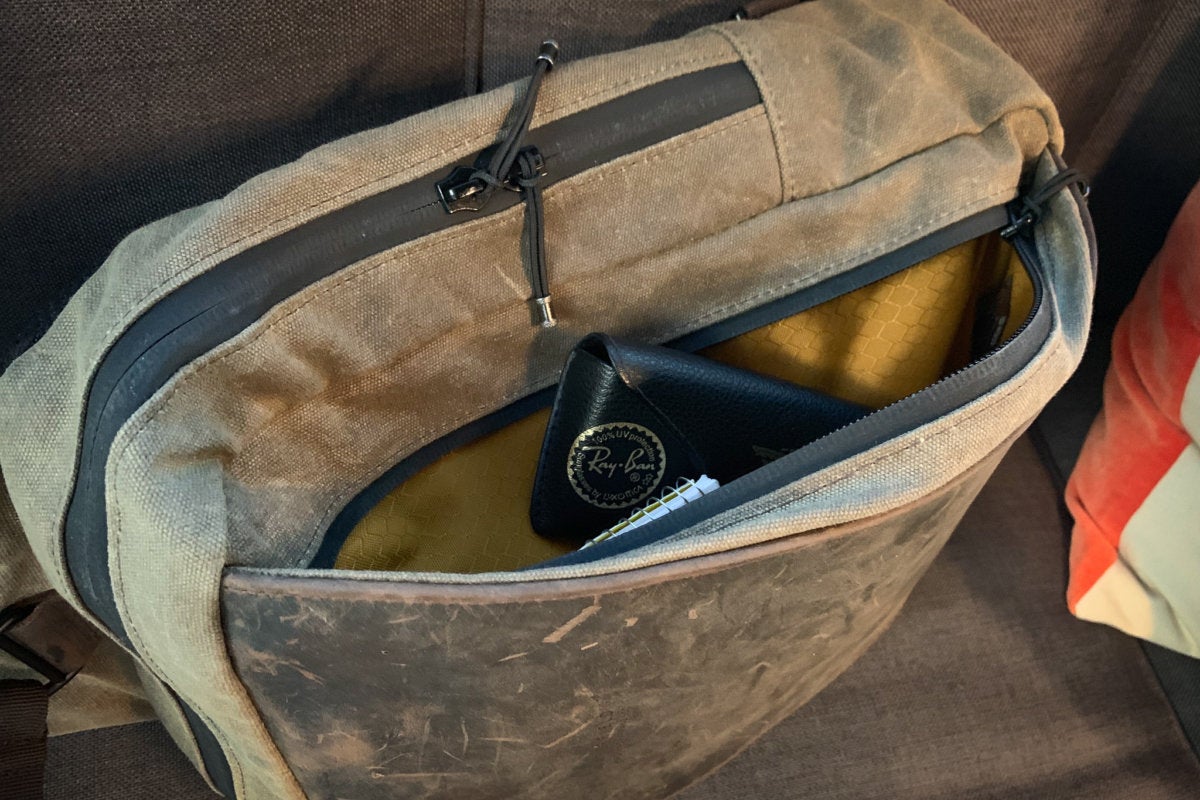 Sutter Sling looks amazing, too, as you do not want to hear me, says about many other slings. WaterField made it with the same robust waxed canvas that is a hit with its other bags, although you can buy it in a slimmer "black ballistic" variety if you find canvas conflicts with your costume. Skinny work is minimal, shoulder strap and a 7.75-inch 14-inch leather canvas that looks snazzy and smells wonderful. Turn it on the back and you'll find a mesh lining that both puts your back off the weight and allows the bag to "breathe" in warmer climbs.
Some bags produce scrimp on the inside, but not WaterField. Open the main zippers, each covered with a rubbery water-repellent material – and you'll find WaterField's signature of gold honeycomb lining that makes everything inside clearer than it would with darker material. On the back of the main room, you'll find a padded laptophylse that's spacious enough to hold both a 13-inch MacBook Pro and 2018 12.9-inch iPad Pro at one time, though it will be a little tight. [19659013] Share the load
There is still a small bag in relation to most rucksacks, but you will still find a large room in the main room. In fact, I once managed to empty a 15-inch MacBook Pro there, even though the zipper was tight and I could not handle myself a lot.
On a typical day, it carries almost all I need: my Bose QuietComfort 35 headphone, my little bag of cables and wall chargers, and my pencil bag. There is usually enough room left for at least two bottles of water, and one day I even managed to empty my clean training clothes in there. Along with a key fob, you'll also find smaller pockets on the wall against the wall against the laptop bar. Four of them consist mainly of holding Apple pencil (or real pens and pencils), although it is a larger bag that is spacious enough to hold two Magic Mouse and a short card.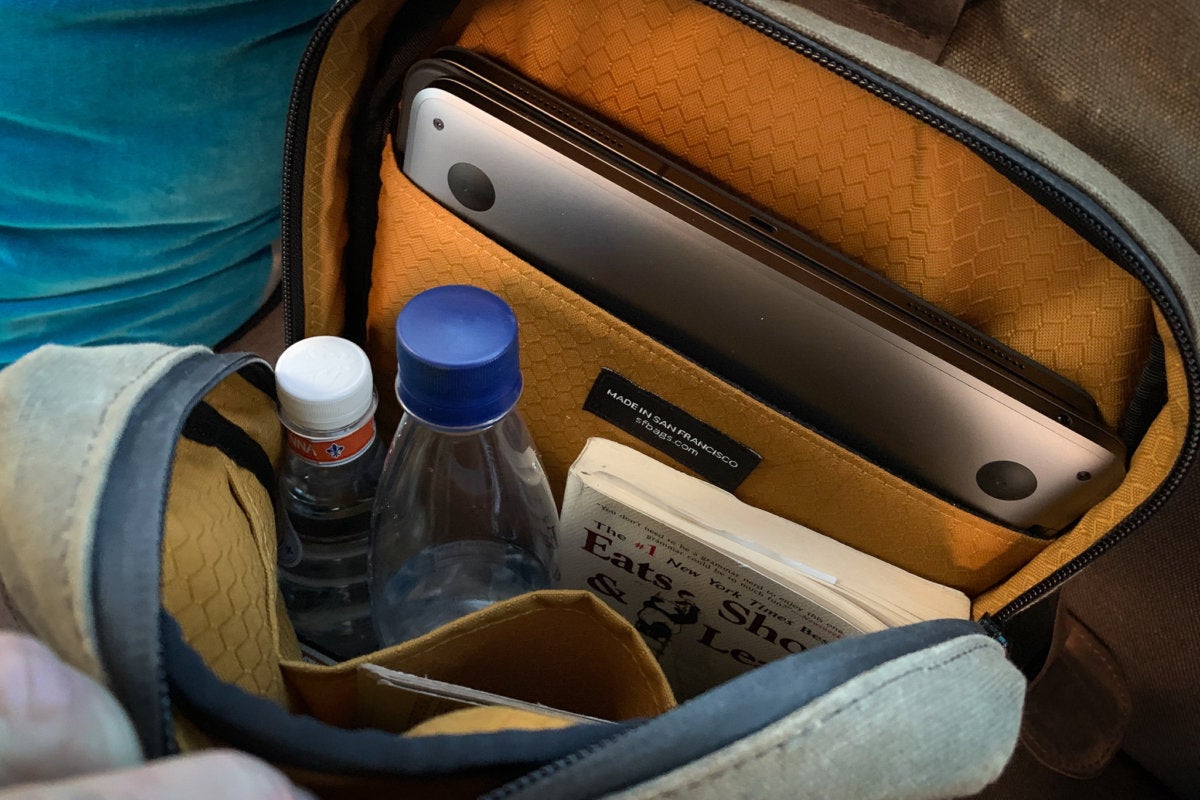 So that's just one problem: it dang shoulder strap. It is made of leather, but it is very thin leather, and so often it clings on my shoulder when I'm in a hurry. The entire point of this bag is that it is easy to adjust the bag along the strap, but the frequent adjustments often allow the shoulder to hang effortlessly on the chest or (more annoying) to my back after turning the bag around. Should I try to adjust it, it usually ends on my shoulder again.
I'm tempted to cut it off. Sutter Sling is still comfortable without it, although the cushion lowers the weight of heavy loads enough to justify keeping it around. I long to replace it with a thicker pillow I love from a competitor, but the cam lock strap is made of a nail and then replaces it with the question.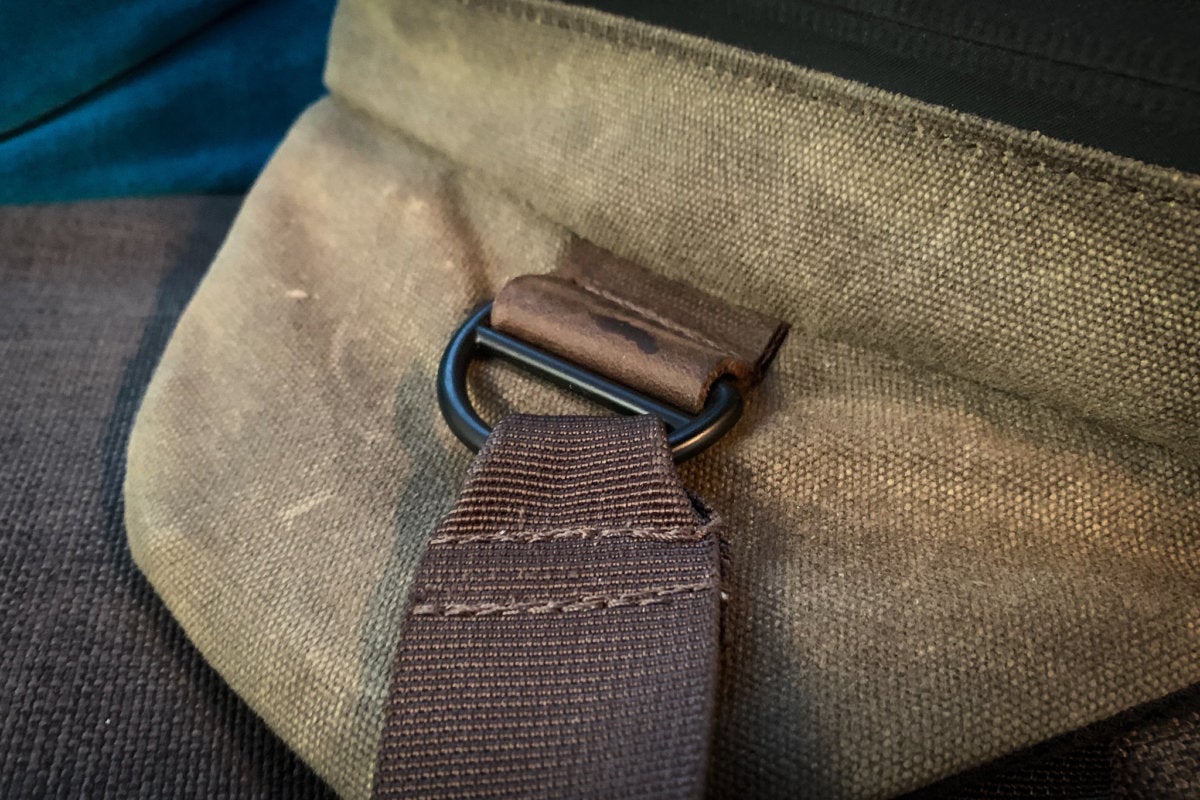 Everything else about Sutter Tech Sling is so good that this does not care much. It's the perfect bag for navigating in the streets of WaterField's San Francisco home, as I can upload my gadgets from work, but quickly access the wallet from the same bag when I insert bodegas. I can carry my gadgets comfortably on the sidewalks, but pull the bag over in my lap in a movement when I'm on the train.
No other bag makes this so good. It's a shame about the shoulder strap, but it will be hard to find a bag that strikes Sutter Tech Sling for my everyday wear.