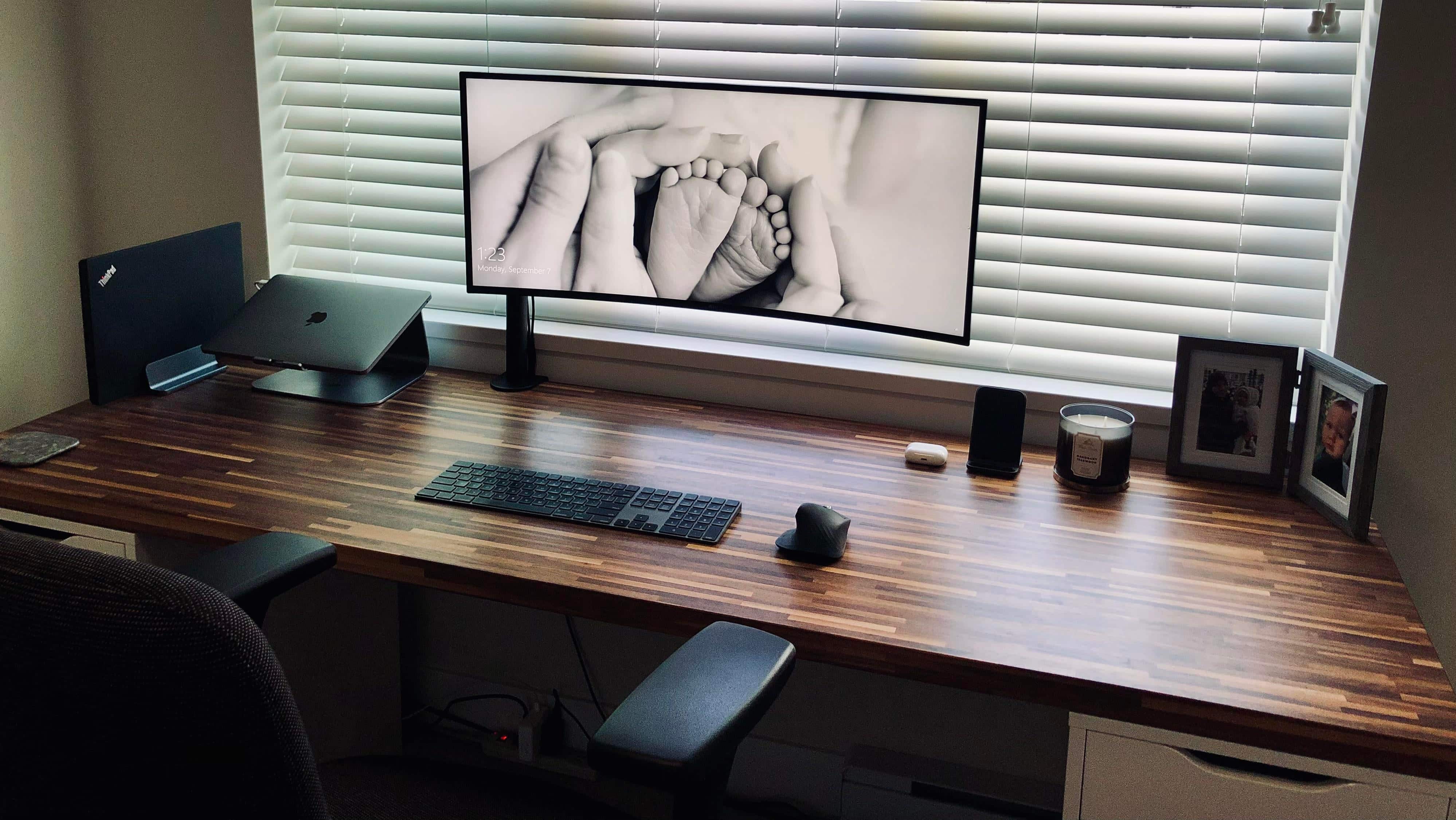 Tyler Marsh has a setup that will make even Marie Kondo proud. He has nothing on his desk besides a couple of family photos and a scented candle, both of which bring joy.

The Linchpin of Marsh̵

7;s rig is an LG 34-inch UltraWide Curved Monitor. It's the only thing in the layout that is not minimalist. He uses the huge screen to drive a 2017 MacBook Pro for personal use. He also has a Lenovo ThinkPad T480 14-inch Business Laptop as his work machine.

UltraWide is attached to the Ikea desk by a Vivo vertical desk stand. An mStand by Rain Design and a MOSISO vertical laptop stand keep both laptops elevated and "keep the desktop clean and minimal, while providing functionality," he said. ->

For peripherals, Marsh shakes a Logitech MX Master 3, one of the most efficient and intuitive mice on the planet. He connects it to an Apple Magic Keyboard (with numeric trackpad). Magic Keyboard gives him a bit of a headache since it lacks support for multiple inputs, so he has to connect via Bluetooth every time he changes computers. And he prefers that it be backlit for easier visibility in low light environments.

He uses a Nomad Base Station Stand to charge the phone. He realizes that it is expensive, but he asked anyway "the quality is second to none."

Marsh is able to keep the desk so clean by practicing good cable management. UltraWide's USB interface allows him to use only one wire between computers.
Shop these items now:
LG 34-inch curved UltraWide screen
Vivo vertical table stand for single LCD screen
Lenovo ThinkPad T480 14-inch HD Business Laptop
Apple Magic Keyboard with numeric keypad
Logitech MX Master 3 wireless mouse
Nomad Base Station Stand
Apple AirPods Pro
Rain design 10032 mStand
Via: u / TDMarsh
If you want to see your layout on Cult of Mac, send some high resolution images to [email protected]. Provide a detailed list of your equipment. Tell us what you like or dislike about your layout, and fill us in on special details or challenges.