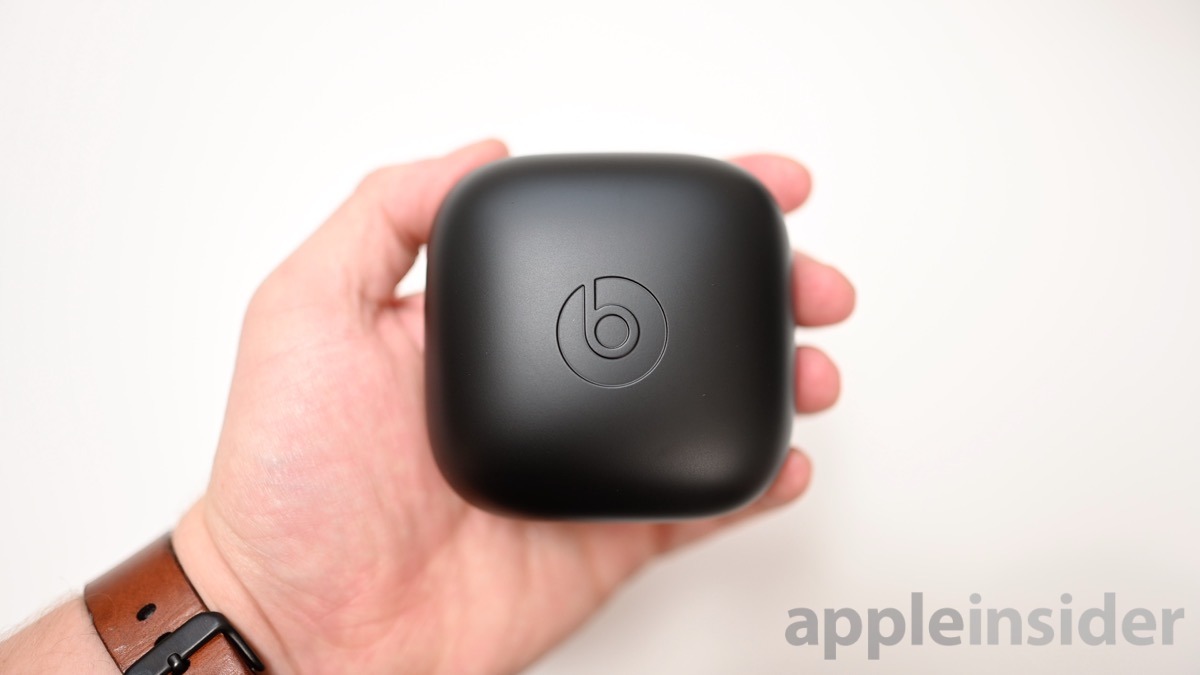 Powerbeats Pro case





Just open the case near your device will show you the battery life on the screen with a slick animation. It shows the case battery life as well as the actual headphones.
If you go ahead and remove one of the individual Powerbeats (or both), the on-screen card will now show the battery life of each earbud by itself. A small lightning bolt also signifies which, if either, are currently charging.
Just like we can with AirPods, one Powerbeat can be used at a time. If you are in an environment where you still want to be cognizant of your surroundings it may be helpful just to have one in rather than both.
Powerbeats Pro have great battery life, but if you need to extend that further, you can just put one in at a time and just swap ears to let one charge while
Making them your own
Powerbeats Pro have built-in physical buttons rather than the tapping gesture of the AirPods. This leaves slightly less to customize in comparison.

Powerbeats Pro settings
To get to the customization options, start by heading to the Settings app, first make sure your Powerbeats Pro are connected and say much in the Bluetooth settings. If they don't show as connected, just make sure to open the case. Leave the case open, or pop them in your ears
Then tap on the i icon to the right of the name.
Now you can delete them from your iCloud profile by tapping "Forget This Device ", rename them, toggle ear detection, and microphone choice.
If you don't like the default name, go ahead and rename them whatever you like. This will appear on all of your other devices that are signed into the same iCloud account.
Automatic Ear Detection can also be toggled off if you choose. Early detection automatically transfers audio to the headphones when placed in your ears and disables it when removed. Powerbeats Pro automatically transfers audio to either the left or right microphone based on which it thinks sounds best / thats not always the best route. By designating this manually, you can choose the best option for your environment
All of your devices
Thanks to iCloud, Powerbeats Pro are automatically available on any device Apple device you own signed in with the same iCloud account. This includes Apple Mac, iPad, and Apple TV and it all happens behind the scenes

Powerbeats Pro
On Apple Watch, swipe up from the bottom to enter Control Center and tap the AirPlay icon. Now just choose your Powerbeats Pro. On your Mac, open your charging case and select the audio icon in the menu bar (your battery life will also be shown here).
From the Apple TV, swipe down from the top, go to audio section, and your Powerbeats should be listed. From the Home menu, tap and hold the play / pause button to bring up the audio controls which will also list your headphones.

Powerbeats Pro battery life on Apple Watch
From Apple Watch, you have a few more handy options. In Control Center, if you have the battery icon while the Powerbeats Pro is connected, you will see the remaining charge on each bid.
Since we are talking battery, the Battery widget on your iOS device is also a good location to See the battery life without having to bring them near your device.
Powerbeats Pro works best with Apple's gear but not exclusively. Just hold the button inside the case for a few seconds until the light flashes white. This is a pairing mode and can be paired to any non-Apple device, such as a Samsung Galaxy phone, and a Windows PC, and more.
Recently, Apple added a new feature to iOS known as Live Listen. It originally worked with AirPods but it works just with the Powerbeats Pro. It is primarily designed for accessibility users who could use a little extra help but we're sure to use it for eavesdropping in other conversations. Just place one earbud in your ear and your phone where you want to list. The feature gets toggled on in Control Center

Powerbeats Pro using Live List
Enable it to go to Settings Control Center Customize Controls and tap on the Hearing control.
If you don't have an Apple Watch and don't want to look at your iPhone every time a call comes in. , you can turn on "Announce Calls". With this on, when your phone rings and headphones are in Siri you will know who is calling based on Caller ID. To enable, head to Settings Phone Announce calls and choose Headphones only .
Lastly, some users may not be aware that the Powerbeats Pro have the same "Hey Siri" functionality found in the second generation AirPods. Just looking at that key phrase and your personal assistant will spring to life
Where to buy
Those looking to purchase Apple's Powerbeats Pro can back the wireless headphones at B&H Photo and Amazon .com . Both Apple authorized resellers are throwing in free shipping with the earphones, which retail for $ 249.95.